What can DAM, PIM & MDM offer?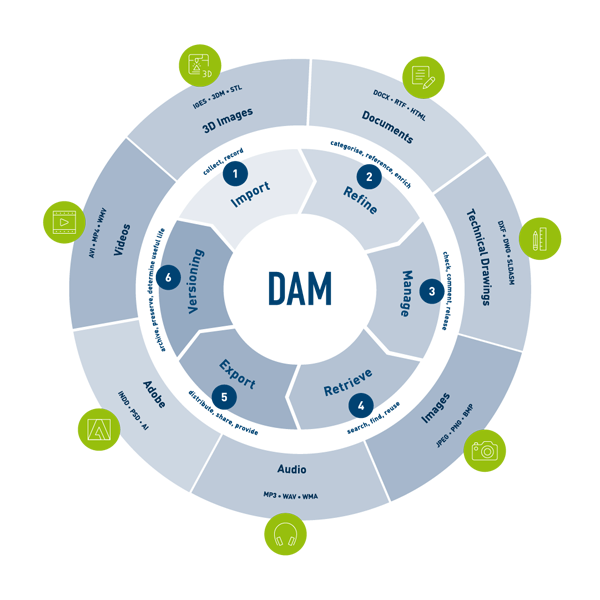 A DAM system helps centralise, process and distribute content, including images, videos and texts (e.g. PIM/MDM, online shop, marketplaces, CMS).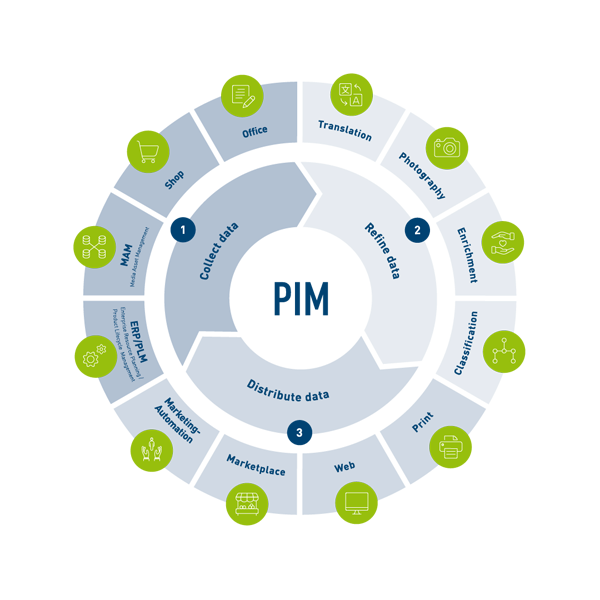 A PIM system is used to centralise, enrich and distribute product data (e.g. in the online shop, marketplaces, CMS).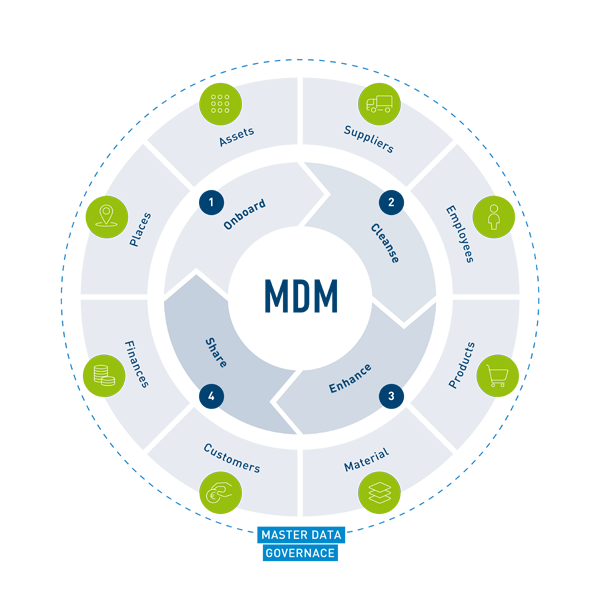 An MDM system is used to centralise, cleanse and optimise a wide variety of corporate data (e.g. customer, order, financial data, etc.) and to distribute it to various target systems.
Implementing PIM, MDM & DAM Systems – Long-Term Success Starts with Concept Creation
Digital Strategy Consulting
As a full-service digital agency, we do not only deal with solutions from the fields of PIM, MDM and DAM, but also have in-depth knowledge of the corresponding systems such as online shop, CRM, CMS or data warehouse. This gives us the opportunity to advise you on the implementation of new systems in a unique and far-sighted way. Together with you, we create a roadmap for digitalising your business processes and derive concrete recommendations for action.
Together we develop
your individual digital strategy
a roadmap and concrete recommendations for action
a digital strategy document
Requirements Analysis & Concept Creation
In order to ensure a high degree of user acceptance and the long-term success of your system, a thorough requirements elicitation is essential. As a basis for the creation of a new solution concept, we thus analyse existing processes and data structures together with you. The defined requirements are then mapped in user stories and are available for further steps such as an RFP.
Together we create
data models and structures
workflows and authorisations
user stories
an initial backlog
a requirements specification
System Selection
Based on the previously defined requirements, we find a solution that suits your company. Our PIM, MDM and DAM consultants know the features as well as the advantages and disadvantages of the individual systems and can therefore provide excellent support on your way from longlist to shortlist. Furthermore, we gladly take over the coordination with software providers. We implement projects in the fields of PIM, DAM and MDM based on Stibo Systems, Akeneo, Contentserv, Celum, TESSA and SAP Product Content Hub.
We support you in
evaluating a suitable system
communicating with system providers
Comparison of PIM and DAM Systems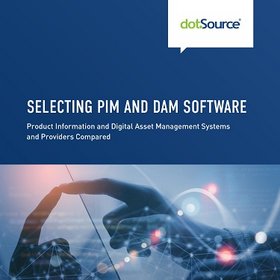 In our »Selecting PIM and DAM Software – Product Information and Digital Asset Management Systems and Providers Compared« white paper, we explain what distinguishes these two systems and compare popular providers.
We Systematically Implement Your Solution
Creation of a Solution Concept
Based on your requirements and the evaluated software solution, our consultants can develop an individual solution concept, specify efforts and create a dedicated project plan. From this point, we can directly start the project.
You will receive
a solution concept
a project plan
a list of the specified efforts
Implementation
We take over the implementation of your new solution. Besides the technical implementation (and individual adjustments if necessary), this also includes the system configuration based on your solution concept. This way, we create the perfect conditions for clean and efficient data management in your new system.
Together we work on
a completely configured, developed and implemented system
a solid foundation for data management
Data Management for PIM, MDM & DAM Systems
Data Onboarding & Interfaces
Whether from a PLM or ERP system, a shop or a connected supplier portal – we support you in finding the right onboarding strategy as well as in implementing the required interfaces. Using quality gates ensures right from the start that only the right data flows into your system via the right channels at the right time.
You receive
an onboarding strategy
an exact description of interfaces
Data Migration & Data Quality
After the implementation, we migrate your data into the new system and support you in switching off your previous solution if necessary. In order to ensure a high quality standard right from the start, we define data quality rules together. For your MDM system we support you in merging your data (e.g. from different ERP systems), data profiling, cleansing of duplicates as well as the connection to golden records.
We support you in
filling your systems with data
the technical implementation of your data governance as well as compliance with your data quality guidelines
the cutover of the previous system
creating golden records
Data Enrichment & Distribution
If your data does not yet comply with the data quality guidelines of your customers, business partners or your own company, we gladly support you in enriching and optimising it. For data enrichment, we rely on state-of-the-art technologies such as AI, including automatic image recognition or attribute maintenance. We also assist you in distributing your data to supplier and partner portals.
We support you with regard to
data enrichment
the distribution of your data to third-party systems
the automated syndication of your data according to specific requirements
PIM & MDM for Print as an Extension for the Digital Creation of Print Products
Get double the benefits! In addition to professional data management, PIM & MDM for Print allows you to easily, quickly and digitally publish your data.
This way, you can create individual marketing and sales content in next to no time.
Our Services for Your PIM, MDM or DAM Solution
Consulting & Support
Even after implementing your system, we will still provide you with advice and support. We take over the maintenance and updates of your system and help you further improve your data quality or maintain the high quality standard. Our experienced developers are at your disposal for further developments of the system.
We offer you
data quality management
maintenance, updates and further development of your system
Project-Related Processes
During the entire PIM, MDM or DAM project, you benefit from our know-how in process and change management as well as data governance. Our experienced project managers ensure the long-term success of your project and proper documentation.
We take over
process and change management
project management
data governance
documentation

Our Strong Partners for PIM, MDM & DAM
Our PIM, MDM & DAM References
Do you want to learn more? I'm looking forward to hearing from you!