About Sonderpreis Baumarkt
The density of DIY stores is particularly high in Germany. The industry's e-commerce is flourishing as well. With more than 270 branches in Germany, FISHBULL Franz Fischer Qualitätswerkzeuge GmbH from Neustadt bei Coburg in Franconia has established itself in the DIY store industry.
From its foundation in 1995 until today, it has been the company's USP to sell screws and ironmongery at favourable prices per kilo. In addition, the company sells tools of its own brands and has special offers. Since 2014, the company has also been running an online shop.


Impress Your E-Commerce Customers with the Right PIM System
The company history of FISHBULL Franz Fischer Qualitätswerkzeuge GmbH shows that you must know the needs of your customers to be successful: the company became known for selling ironmongery at a price per kilo after its founders had realised that do-it-yourselfers did not like to buy bulk packs just because they were missing a few screws. Sonderpreis Baumarkt has kept this feeling for the customer and has transferred it to its online business. In November 2017, the company approached dotSource with the request to jointly develop a strategy for the future and to expand the existing system landscape into a digital platform.
The main goal was to implement a powerful PIM (product information management) system to make high-quality and enriched data available across all channels and to automate many processes that had previously been handled manually.
World Premiere of the Akeneo Onboarder
A well-maintained PIM system becomes the »single source of truth« of a company. Duplicates and data silos are avoided, product information can be managed specifically for each channel. Besides strategy consulting, dotSource also supported Sonderpreis Baumarkt in evaluating PIM system providers and took over the implementation of the new PIM system as well as the migration or new implementation of all corresponding systems. The digital agency also assisted Sonderpreis Baumarkt in terms of data enrichment and employee training.
By implementing the Akeneo Onboarder, the project team consisting of dotSource and Sonderpreis Baumarkt launched the world's first project for automated exchange and integration of supplier data into the PIM system. The cloud-based solution is currently being implemented with a pilot supplier and allows Sonderpreis Baumarkt to use the feedback from actual users, i.e. suppliers and customers, to design and further develop its online shop.
An Overview of Our Services
Strategy consulting
System evaluation
Implementation of a PIM system, DAM system and publishing software
Migration of the e-commerce software
Replacement of the ERP system
Integration of an ERP system
Data enrichment support
Implementation and support of a pilot project involving the Akeneo Onboarder
In-depth training courses in using the system
Greater Digital Presence and Competitiveness Thanks to Akeneo PIM
The interaction of the new PIM system with other new tools such as the DAM system, publishing software, e-commerce and ERP system as well as the intelligent integration of the ERP system and the launch of the Akeneo Onboarder pilot project effectively support Sonderpreis Baumarkt in expanding its digital presence and increasing its competitiveness.
By setting up the platform and connecting the Akeneo Onboarder cloud solution, internal processes are made more efficient and added value is created for all user groups involved – from employees, partners and suppliers to customers. Sources of error are significantly reduced, the data quality and thus the user experience are improved in all areas, both internally in terms of product maintenance and in exchange with suppliers.
Whether at a brick-and-mortar store or in the online shop: customers can find exactly what they are looking for – at favourable conditions. This way, they are positively surprised by offers which, thanks to digital technologies, are distributed quickly, correctly and effectively across all channels.
dotSource acts with great foresight. Whether it is strategy consulting, training or the implementation of the PIM system and its connection to the system landscape: we feel perfectly supported on our journey to a digital future and learn new things with enthusiasm every day.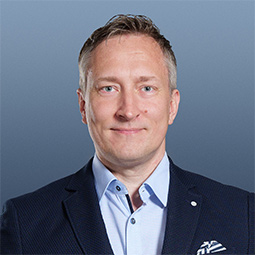 Want to learn more? I'm looking forward to hearing from you!
Marcus Wagner
Account Executive
Digital Business