Are You Concerned with the Following Questions? We Find the Right Answers!
As a company, how do I shorten the time to market of my products and services?
How can I deal with disruptions better without having to fear existential threats?
How can I put customer needs at the centre of development?
How can I motivate my employees for our journey into the future and reduce fears of change?
Our Services as Agile Coaches at a Glance
We support you in implementing and optimising agile processes and values in your company so that your self-organised teams are able to make decisions quickly. As agile coaches, we not only want to develop concepts with you, but we also want to embark on the journey to digital transformation together. We help you put this into practice and provide support when challenges arise along the way. Taking an objective view of the company as a whole is just as important to us as working in smaller structural units. This is how we can support you:
Agile Management Consulting: Together we analyse and optimise your individual corporate structures and processes
Agile Mindset: We support your company in developing an agile mindset and provide you with new practices and methods (lean thinking, systems thinking, DevOps)
Agile Teams: We support you in restructuring your teams (introduction of agile roles for self-organisation, taking over roles such as Scrum Master or PO Assistant if required)
Agile Coaching: We conduct workshops at your premises; we also advise and support you in eliminating impediments and anti-patterns
Agile Practices: Support in implementing agile practices (Scrum, XP, pair programming)
Agile Tools: Support in implementing and using agile tools (Jira, Confluence, Azure DevOps)
Our agile coaches support product owners from requirements analysis to prioritisation (WSJF)
What You Can Achieve with Agile Coaching
Faster time to market for your products
Increase in productivity
Process optimisation
Leaner organisation
Combination of digital skills (strategy & technology)
Freedom for innovation
More satisfied customers
Satisfied and motivated employees
Why You Should Rely on Agile Coaching with dotSource
Since 2006, we have been embracing the principles and values of agile software development and agile corporate culture in our everyday agency life and in collaboration with our clients. Our qualified and experienced team has the following certifications:
Professional Scrum Master
Professional Scrum Product Owner
Professional Scrum Developer
Scaled Professional Scrum
Certified SAFe 5 Agilist
Certified SAFe 5 Lean Portfolio Manager
Certified SAFe 5 Advanced Scrum Master
ICAgile Certified Professional ICP-ATF
Certified SAFe 5 Program Consultant
Agile Requirements Specialist
Nexus
LeSS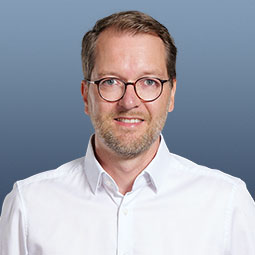 Do you want to learn more? I'm looking forward to hearing from you!
Christian Onnasch
Digital Business