Experience, Technological Expertise, and Strong Partners
Always new trends, smart technologies and changing consumer behavior: The retail industry is undergoing a fundamental structural change.
As a retailer or manufacturer, you face the challenge of responding to these developments.
With our experience, technological expertise and our strong network of partners we'll support you in achieving a strategic entry into e-commerce and help you in the realignment of your online activities with a full service solution.
We'll provide comprehensive advice in the design, development and expansion of your online sales channel. This includes the creation of individual strategies and the evaluation of internal processes, as well as the selection of fitting e-commerce systems. We have your wishes and requirements in view as well as the perspective of your customers.
Get on the Online Retail Train with a dotSource Entry-Level Solution
Would you like to enter into online business quickly, but are worried about a high initial investment and a protracted implementation? Then we recommend our Entry Solution – our basic package for a fast and uncomplicated start in online trade.
Create an efficient but at the same time sustainable overall solution for your company with which you can address your customers in a professional and professional manner.
AN ENTRY-LEVEL SOLUTION INCLUDES:
The implementation of an individual design on the basis of a Magento template set selected
Interface development
Integration of search functions
Marketing functions (vouchers, discounts, SEO)
Hosting & services
FLEXIBILITY AND EFFICIENCY WITH THE FULL SERVICE SOLUTION FROM DOTSOURCE
High costs, a lack of resources, not enough knowledge – are these factors stopping you from including or expanding the area of online trade in your company? Then you can count on our full service offer.
Our specialists deal with all aspects of the e-commerce value creation chain, while you can focus on your core business. In this way we offer you a flexible and economic solution, with which you can immediately profit from the success potential of online trade.
WHO IS THE FULL SERVICE SOLUTION DESIGN FOR?
Small to medium sized companies, that wish to sell online quickly without first having to hire staff with sufficient expertise.
Large companies with e-commerce experience and individual requirements, which want to outsource the area of e-commerce.
Our full services offer includes:
Digital-Marketing: SEO, SEA, email marketing, product data marketing, conversion and usability optimisation, display advertising, web analytics, content marketing, or social media
Financial services: Integrated ERP system, accounting, customer accounts, reminders and reporting
Onlineshop: Software as a service
Customer service: communication via e-mail, telephone, fax and letter
Fulfilment: integrated ERP system, warehousing, shipping, returns management
AN OVERVIEW OF THE ADVANTAGES:
Low and calculable initial investment
Accurately forecasted operating costs
No internal IT resources required
Integrated ERP system
Preconfigured interfaces
Quick implementation
Functional expansion possibilities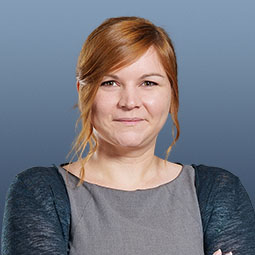 Want to learn more? I'm looking forward to your questions!
Jessica Seliger
Partner Manager