Founded in 2014, Spryker now has more than 300 employees. With its state-of-the-art, cloud-based platform-as-a-service solution (Spryker Cloud Commerce OS), Spryker serves over 150 international customers from a wide range of industries – from ALDI, METRO and Continental to Hilti.
Spryker is primarily aimed at medium-sized and large companies whose requirements demand complex and specialised e-commerce solutions. As a young company, Spryker itself follows agile principles in order to be able to respond quickly to new or changing requirements in e-business. All sectors benefit from this – whether it is B2B or B2C, enterprise marketplaces or unified commerce.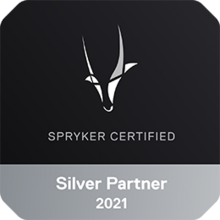 Your Advantages with Spryker's E-Commerce Solution
Spryker is redefining the boundaries of e-commerce with its approach. Central to this is the concept of composable commerce, which takes into account the enormous dynamics in e-business: instead of using inflexible, monolithic solutions, great importance is attached to flexibility, customisation and scalability – always up to date and oriented towards customer and market requirements. Based on the modular principle, a wide range of API-based modules and individual software packages can be combined to meet company-specific needs.
Spryker – Features at a Glance
Through modularity and scalability, Spryker provides individual solutions for every company so that they can map their own business processes and grow flexibly with the system
The replacement of cumbersome, monolithic systems ensures dynamism and reduces costs
Fast time to market thanks to more than 800 API-based modules
Spryker Cloud Commerce OS as a PaaS solution facilitates deployment, updates as well as scalability and reduces migration effort
Agility and continuous development with shorter development cycles thanks to headless commerce system
Integrated middleware facilitates data integration and thus accelerates data exchange
Benefit from our Know-How as a Spryker Silver Partner
We have more than 15 years of experience in implementing and managing national and international e-commerce projects. As an official Spryker Silver Partner, we support you in digitally mapping your business processes with the help of the flexible and expandable e-commerce solution Spryker Cloud Commerce OS.
We advise you and assist you in planning your Spryker project. We also help you with the implementation and provide long-term support.
We Take Over
Strategy & Planning: Together with you, we evaluate all requirements and support you in creating a strategic concept for your ideal system landscape
Development & Implementation: We develop a solution that meets your specific needs and seamlessly integrate it into your existing system landscape
Support: We take care of your online platform even after the launch and support you in developing new features, updates, etc.
Want to learn more? I'm looking forward to hearing from you!