The state-of-the-art open source software Adobe Commerce Cloud (formerly known as Magento 2 Commerce) enables omnichannel commerce for B2B and B2C companies. With the all-in-one cloud solution, Adobe offers a cutting-edge system that focuses on scalability, flexibility and expandability. It allows you to perform all commerce tasks with one commerce solution. Adobe Commerce is part of Adobe Experience Cloud and – thanks to its wide range of features – is suitable for any company, regardless of its size.
What Is a Modern E-Commerce System Capable Of?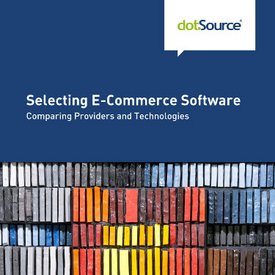 »Selecting E-Commerce Software« White Paper
Find out what constitutes a future-proof e-commerce system and how Adobe Commerce compares to other solutions.
Adobe Consulting and Much More – Our Services at a Glance
Our Adobe Commerce specialists provide you with comprehensive support – from concept creation and continuous optimisation to ongoing operation.
Concept Creation and Consulting
We effectively evaluate and document your requirements as the basis for a tailor-made solution
We support you in configuring your applications and solutions
Technical System Integration
We implement customisations according to your needs
We optimise your user experience with the know-how of a UX agency
We integrate Adobe Commerce into your system landscape
We help you automate processes
We carry out multivariate tests using professional A/B testing
Continuous Support and Optimisation
We continuously advise you with regard to future solutions
We constantly develop your technical applications and user experience
We offer in-depth business intelligence consulting services and assist you in measuring your success, creating reports and identifying potential for improvement
We provide full-service support for Adobe Commerce Cloud solutions
Training
We conduct individual hands-on training courses
We deliver use case training for users
Benefits of Adobe Commerce
Transparent and easily extensible processes and data flows
Flexible Hosting: On-premise or cloud solution directly from Adobe
Feature solutions specifically for B2C and B2B
Global Solutions: Adobe Commerce is a multi-client, multi-currency and multilingual software
Commerce as Part of the Adobe Platform: Marketing automation, analytics tool, CMS – by seamlessly integrating these solutions into Adobe Experience Cloud, you can unlock the full potential of your company
Measurable success through reports
Business Intelligence
Visualise your data and KPIs with customised dashboards and keep an eye on your business goals.
Instant Purchase
Deliver a seamless shopping experience by enabling customers to skip checkout steps – even on mobile devices.
PWA Studio
Benefit from the high-end development environment for progressive web apps and optimise your online shop to create omnichannel experiences.
Security
Ensure the reliability of your systems with built-in security standards such as the PCI certification.
AWS Cloud Infrastructure
Benefit from an AWS-based cloud infrastructure to deliver commerce implementations quickly and flexibly.
Page Builder
Get access to the integrated content management system (CMS) with drag-and-drop feature. Build and manage everything from landing pages to product detail pages with ease.
Inventory and Order Management
Create consistent cross-channel experiences thanks to procurement algorithms and agile fulfilment options.
Customer Account Management
Provide your customer service department with real-time details on all customer interactions, including key order information.
Adobe Sensei
Optimise the customer experience by presenting your customers with AI-based product recommendations and search results on the basis of factors such as similar products, trends and past purchasing behaviour.
Do You Want to Quickly Set up a Future-Proof B2B or B2C Online Shop?
This Is Why dotSource Is the Right Adobe Commerce Partner at Your Side
We have many years of experience working on Adobe projects (since 2008)
We are a certified Adobe Gold Solution Partner
We support you from the strategic concept creation and implementation to the training of your employees using a holistic approach
We have expert teams that regularly attend Adobe training and certification courses
We provide you with all Adobe and Magento solutions (such as Magento 2 and Magento Open Source) from one source and have a central contact for all systems
We guide you through an ongoing support and mentoring process led by our experts
A Selection of Our Clients That Are Already Successful with Adobe Commerce
FAQ – Frequently Asked Questions About Adobe Commerce
01
What Is the Difference Between Adobe Commerce and Magento Open Source?
Adobe Commerce and Magento Open Source are two different software solutions based on Magento 2. Both of them contain the core features of this earlier Magento version. Magento Open Source is free of charge. However, Adobe Commerce offers essential B2B features, more hosting options as well as better service and support. If you have any questions about which version best suits your company, we will be happy to help.
02
How Much Does Adobe Commerce Cost?
Adobe Commerce offers a free trial version. Once the trial version has expired, the pricing of Adobe Commerce is client-specific. It depends on factors such as company size and revenue.
03
How Good Is Adobe Commerce?
In the Gartner® Magic Quadrant™, Adobe Commerce has been named as a leader in digital commerce. The software is still one of the most frequently used e-commerce solutions.
04
How Can dotSource Support You?
We provide you with comprehensive support using a holistic approach. From concept creation, consulting, training courses and implementation to ongoing support – our specialists are always at your service.
We Implement Your Individual Adobe Solution
Want to learn more? I'm looking forward to hearing from you!