71
%
of customers expect companies to collaborate internally so that they do not have to repeat themselves.
80
%
of customers switch to competitors after several bad experiences.
42
%
more service enquiries are expected due to increased customer demands.
Multi-Channel Support in Real Time with Field Service Management
Your Challenge
Whether it is in the construction, manufacturing or air conditioning industry, companies with complex structures are often faced with questions such as: Who can take on which assignments where? Which tool is in which vehicle? What is the workload of my field service employees and do they have the skills to take on assignment X?
In addition, machines and systems in operation at a wide variety of customers are expected to perform to a high standard. Regular servicing, maintenance and optimisation as well as fast service in case of repair are essential for high customer satisfaction. It is crucial to ensure good access to data and data inflow for all roles and user groups.
Our Solution
We support you in the implementation and further development of a suitable field service management system that significantly optimises your entire life cycle – irrespective of roles and across all industries. We start with innovative and effective workshops to determine your requirements and analyse your processes, then migrate and process your data before connecting maps to your field service management system so that you can efficiently plan the routes of your field service employees.
Together with you, we also set up a self-service portal and train your service agents in using the system to enable flexible and efficient work assignment planning in the future and thus provide your customers with excellent service.
We Support You in
creating a holistic field service strategy concept
selecting and implementing a suitable system
carrying out the field service project
training your employees in using the system
terms of ongoing support and further development
Benefit from the Advantages of Automated Field Service Processes
Reducing Efforts in Work Assignment Planning
Having information on customer location, machine history, service technician availability, inventory and much more available at a glance allows you to plan work assignments quickly and in the best possible way.
Delivering Personalised Service and Achieving Maximum Productivity
Thanks to a mobile app, technicians can quickly obtain relevant information to successfully complete assignments.
Making Service Processes More Flexible
Keep track of all data: calculate, for example, how much effort an assignment requires and check who has free resources.

Ensuring High-Quality Customer Service
With up-to-date customer and machine data as well as service history, service and field service colleagues have all the information they need to maintain service levels with customers.
Identifying Cross-Selling and Upselling Potential
When dealing directly with customers, technicians can identify and create opportunities and share them with the sales team.

Increasing Customer Satisfaction
With a user-oriented self-service portal that includes an accessible knowledge base, you can competently support the autonomy of your customers.
We Rely on Strong Partners for Field Service Management
These Companies Already Rely on Our Field Service Management Expertise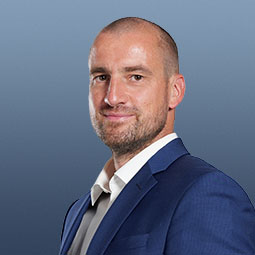 Do you want to learn more? I'm looking forward to hearing from you!
Steffen Schneider
Digital Business