For Personalised Customer Service Across all Channels
Customers are multifaceted and expect fast and uncomplicated support no matter when or where they are. Salesforce Service Cloud is a CRM system that puts your customer service at the centre. It helps your service staff respond to your customers better and faster. Benefit from predictive analytics, the integration of your call centre and the tracking of all customer transactions across different channels.
Service Cloud Functions at a Glance
Case management: Clear dashboards provide information about all operations and customer interactions. So that you can make informed decisions and handle customer requests in record time.
Account and contact management: By accessing all relevant information in a customer's history, your employees can always ensure the best possible service.
Omnichannel presence and routing: Automatically assign operations to an available service representative with the appropriate skills.
Live agent: Interact with your customers in real time and give the right answers even faster thanks to keyboard shortcuts for ready-made texts.
Workflow & approvals: With workflow functionality, you can easily personalise and automate any customer service and approval process using drag-and-drop.
Phone call integration: By integrating your CTI system, customer calls can be logged immediately. Calls can be made completely through the console.
Social networks: React quickly and easily to your customers' posts on social networks, such as Instagram, Facebook, and Twitter.
Service automation: Automate frequently recurring tasks, freeing up your support staff.
Salesforce Service Cloud Demo
Our Salesforce expert René Zimmermann shows you how efficient customer service is achieved with the Salesforce platform in this video.
Your Advantages with Salesforce Service Cloud
360-degree view of every customer thanks to the combination of customer service software and CRM system
Personalised customer service across all channels
Networking of all employees – both internally and in the field
Expandability with powerful Salesforce marketing automation tools
Constant updates and further development
Mobile applications


Our Certified Service Cloud Consultants are Happy to Assist You
The creation of a successful CRM strategy: Together, we'll analyse your business processes and evaluate which CRM system best suits your company.
Transparent quotes: After the decision-making process, you'll receive a concrete offer, including license costs, follow-up costs, support and update regulations, as well as expenses for implementation and implementation.
Implementation and development of Salesforce Service Cloud: We take over the complete configuration – from basic setup to operation.
Data migration: We'll support you in the integration of existing data into the Salesforce system.
Connecting external systems to Salesforce: We connect additional systems, such as your online shop, or your e-mail marketing tool for you.
Automated marketing campaigns: Together, we'll carry out fully automated marketing campaigns through social media and e-mail marketing.
We'll Create Your Multi-Cloud Solution: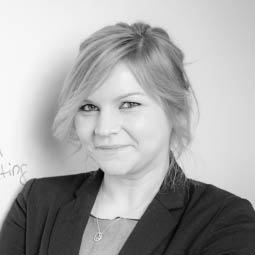 Want to learn more? I'm looking forward to hearing from you!
Jessica Kopyto
Account Executive
Digital Business
Maximise Customer Satisfaction with Salesforce!