Salesforce Service Cloud: The CRM Solution for Personalised Omnichannel Customer Service
Even when it comes to service, customers expect a unique experience with short response times. Companies need to provide fast and straightforward support – no matter when, no matter where. With Salesforce Service Cloud, your customers can enjoy superior service on all channels. The cloud-based customer service solution brings together all support channels and enables your employees to provide a seamless service experience.
With Salesforce Service Cloud, you can integrate your call centre, track customer activity across different channels and deliver predictive analytics. While you optimise your in-house sales force with intelligent features such as an integrated web chat or social customer service, you unlock new potential in terms of field service by integrating a computer telephony integration (CTI) system.
Read More About Salesforce Service Cloud Here!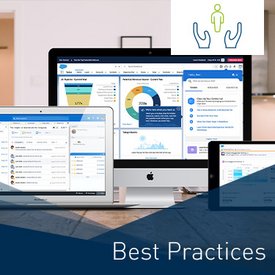 Find out in our »CRM Best Practices« publication how Salesforce Service Cloud optimises service processes at MEVACO, Unitedprint and INNIO and how its implementation succeeded despite unique challenges.
Salesforce Service Cloud Showcase
In this video, our Salesforce expert René Zimmermann introduces you to the most important features of Salesforce Service Cloud and explains how efficient customer service can be achieved using the Salesforce platform.


Services – Strengthen Your Customer Relationships with Salesforce Service Cloud
As an official Salesforce Partner with certified expertise, we support you before, during and after the implementation of Salesforce Service Cloud. We are also happy to help you take care of your existing Salesforce solution.
Before the Implementation
Development of a Successful Service Management Strategy: Analysis of your customer service processes and identification of relevant requirements for your CRM solution
During the Implementation
Data Migration: Professional transfer of your existing data sets to Salesforce Service Cloud
Implementation of Salesforce Service Cloud: Comprehensive system configuration – from basic set-up to operation
Automated Marketing Campaigns: Consulting or operational support as a marketing automation agency to optimise your business processes (if required)
After the Implementation
Training Courses: Training of your customer service and field service employees in using Salesforce Service Cloud, either remotely or on site
Support and Further Development: Continuous support and improvement of your platform
Full Potential for Your Customers: Implementation of loyalty programmes as well as self-service and partner platforms
Connection of External Systems to Salesforce: Integration of your online shop, e-mail marketing tools and other systems such as Salesforce Sales Cloud
Automate Manual Processes with Salesforce Service Cloud Now!
Salesforce offers you the opportunity to automate a wide range of processes. This makes your customer service faster and reduces the workload of your employees.
Here are some of the aspects you can automate:
Workflows: This includes automatic case assignment, effective support processes, automatic task creation and escalation management.
Case Creation: Filling out forms and receiving e-mails to your support address automatically leads to the creation of new customer cases.
Chat Support via Chatbot: Thanks to artificial intelligence and easy-to-integrate chatbots, you can automate customer interactions via chat on all channels.
Salesforce Agency dotSource: These Companies Trust Our Salesforce Service Cloud Expertise
Salesforce Service Cloud Features: For More Efficient Customer Service
Optimise your customer service with Salesforce Service Cloud! Manage all customer service processes on one platform – not least thanks to sophisticated technologies such as the artificial intelligence (AI) tool Salesforce Einstein. In addition, you can expect a wide range of other features to provide your customers with a positive service experience.
Case Management: Get an overview of all processes and the status of your customer enquiries. This allows you to make well-founded decisions and process service enquiries quickly and effectively.
Account and Contact Management: Give your employees access to customer profiles, purchase and interaction histories as well as contact information. This improves customer service and eliminates the need for repeated enquiries from customers.
Omnichannel Presence and Routing: Automatically assign customer enquiries to an available service agent – regardless of the channel (e-mail, social media, chat, etc.) – and prioritise customer concerns.
Service Cloud Mobile: Enable your service agents to access and handle customer data and enquiries while on the road.
Live Agent: Interact with your customers in real time. Provide the right answers faster thanks to keyboard shortcuts for ready-made texts or initiate a video chat. The integration of chatbots and AI also makes it possible to respond quickly to service enquiries.
Workflows and Approvals: Workflow functionality lets you conveniently personalise and automate any customer service and approval process with drag-and-drop ease.
Computer Telephony Integration: By integrating your CTI system, you can make calls entirely via the console. You can also log and manage calls from customers automatically.
Customer Communities: Create self-service portals and assist in building a helpful community for your customers.
Social Networks: Respond quickly and easily to your customers' posts on social networks such as Instagram, Facebook and Twitter.
Service Automation: Automate frequently recurring tasks and reduce the workload of your support team.
Salesforce Knowledge Base: With a knowledge base, you can provide your customers and customer agents with answers to frequently asked questions and access to relevant information.
Reporting and Analytics: Adjust your service strategy based on meaningful data such as customer satisfaction and comprehensive reports.
Loyalty Management: Link customer support to your loyalty programmes for deeper and closer customer relationships.
Why It Is Worth Using Salesforce Service Cloud
360-degree view of every customer by bringing together sales, service, marketing and support
Personalised customer service on all channels
Networking of all employees – both in the office and in the field
Extensibility with powerful tools such as Salesforce Marketing Cloud as well as your field service management
Continuous updates and further development as a software-as-a-service solution
Automatic escalation of cases to higher levels for rapid problem resolution
Support and service centrally managed on one platform
Applications can also be used while on the road
Automation of manual processes makes service efficient and less prone to errors
Simple set-up of self-service platforms and integration of chatbots and AI
Real-time reporting and analytics enable data-driven service processes
We Implement Your Multi-Cloud Solution
FAQ – Frequently Asked Questions About Salesforce Service Cloud
01
What is Salesforce Service Cloud?
Salesforce Service Cloud is a cloud-based solution that helps you optimise your customer service and the experience of your customers. Thanks to various features such as Lightning console apps, Knowledge Base or Live Agent, you can ensure high-quality customer service and respond to enquiries quickly and efficiently on all channels. In addition, Salesforce Service Cloud makes it possible to obtain a 360-degree view of your customers. Personalise your service strategy and provide the support your target audience needs!
02
What are the features of Salesforce Service Cloud?
Salesforce Service Cloud offers a wide range of useful features to optimise your customer support. These include omnichannel support, the use of knowledge bases, the automation of business processes, analytics and reporting capabilities and much more. Our expert consultants are at your disposal to help you evaluate how you can ensure the highest possible efficiency of your customer service.
03
What is an Einstein chatbot?
Einstein bots are chatbots that are easy to integrate. Once linked to your Salesforce data, the bot can communicate with your customers on all channels – from chat to SMS and social media. The AI involved uses natural language processing, among other things, to better understand your customers and deliver appropriate responses. With bots, you can automate common support tasks and thus reduce the workload of your customer agents, resulting in more efficient customer service.
04
What mobile solutions are featured in Salesforce Service Cloud?
Salesforce offers both customers and your employees applications for mobile devices. This way, your customers benefit from the fact that customer service can easily be integrated into all types of mobile apps. Make sure your customers can enjoy excellent service – even while on the road. With the Salesforce mobile app, all important data and information is also available to your customer service employees when they are out of the office. This is how you ensure modern field service management for your company.
05
What reports and dashboards are available in Salesforce Service Cloud?
Salesforce Service Cloud comes with a variety of useful reports and dashboards. These include tools that provide a comprehensive overview of service data and various performance indicators. Consolidate customer case and satisfaction metrics, trends and more in one place. Leverage your Salesforce data quickly and easily to make your customer service even more efficient!
06
What is a self-service community?
It is a community designed for customers to independently help each other with questions and problems without having to contact customer service. With Salesforce Service Cloud, you can easily create a self-service portal with appropriate content such as FAQ sections, tutorials, how-tos and more. This provides significant added value to your target audience and reduces the workload of your service agents. Moreover, you increase your availability to 24/7 support and ensure that your customers can network.
07
How much does Salesforce Service Cloud cost?
Prices vary greatly depending on factors such as the number of licences and desired features. Salesforce offers several editions to choose from. We are happy to help you find the edition that is best suited to your requirements.
08
How is customer data stored and managed in Salesforce Service Cloud?
Salesforce Service Cloud stores data on your customers centrally in a database. There, the data is categorised into different objects such as accounts or cases. Salesforce enables you to manage and analyse your data efficiently. For example, it allows you to automate a number of manual processes. In addition, Salesforce ensures data security and data protection through advanced features such as role-based access control. The solution complies with international certifications such as ISO 27001 and the GDPR.
Want to learn more? I'm looking forward to hearing from you!