Contentserv is a leading platform provider of product information management (PIM), digital asset management (DAM) and master data management (MDM) systems.
The PIM/MDM solution with an integrated DAM system can create a personalised product experience. In addition, the platform meets numerous customer requirements – from retailers to brands – without extensions.
As a Contentserv implementation partner, we can support you with the following:
Product and master data management
Process and change management
Furthermore, we assist you in filling numerous distribution channels automatically and individually.


The Right PIM System for Enhanced Business Success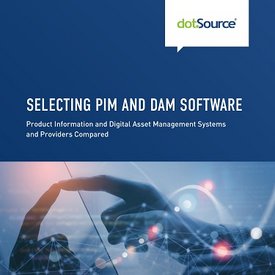 Learn about different PIM and MDM software providers in our white paper!
We have collected and compared the leading solutions in this publication.
What Are the Benefits of Contentserv?
»Single Source of Truth«
With Contentserv's Enterprise PIM solution, you gain a personalised »single source of truth« for all your product data. The import/export data flow creates a configurable extract, transform and load (ETL) solution, which enables files and third-party systems to be connected. Furthermore, it allows automated data exchange.
Efficient Processes Thanks to Product Data Enrichment via Interfaces
Sources such as suppliers, manufacturers, branches as well as photo and translation agencies can fill the system via data flow or other interfaces. This ensures more efficient product data enrichment.
Innovation and Continuous Further Development of the Platform
Contentserv is continuously developing and improving its platform. From small features that facilitate your daily business to innovative extensions that offer users new options for a personalised product experience.
User-Friendly and Easy to Operate
Contentserv's solutions can be quickly and easily adapted to your requirements. In addition, the software architecture is designed for maximum scalability in a grid-based cloud environment.
Contextualised Messages
Always send the right message to the right person at the right time. Thanks to comprehensive contextualisation features, this can soon be ensured.
The Following Features Await You
Contentserv offers you a versatile PIM, MDM and DAM solution and has a seamlessly connected multi-channel component for online, e-commerce and print management.
Moreover, by implementing this platform, you benefit from the following features:
Multi-domain capabilities
Web-based user interface for customers and configuration
Short time to market of products
Possible expansion to enterprise marketing management system
Distribution of personalised content across different output channels
Excellent usability
Easy integration of international standards for classification, such as ECLASS or ETIM
Modelling classes for the building information modelling (BIM) process
Import and export of the standard exchange format BMEcat (1.2 and 2005)
Headless integration through product experience hubs (PXH) via individual API endpoints
Fully integrated media asset management (MAM) system
Efficient print publishing processes for the creation of data sheets, price lists and catalogues through integrated InDesign and Smart Documents
Flexible and free data model
Data quality rules and workflow management for high-quality data
Onboarding portal for the integration of data from third-party systems
Many updatable standard extensions on the Contentserv Business Solutions marketplace
Personalised Product Experience with Contentserv – Our Services
Before the implementation
Analysis of your requirements and concept creation for a solution
Development of data models and authorisation concepts
Process management and consulting regarding your workflow development
During the implementation
Implementation of your PIM/MDM system
Support in data onboarding and data quality assurance
Technical implementation of your data governance
Connection to third-party systems as well as customer, supplier and partner portals
After the implementation
Organisation of workshops and training courses
Updates and development of extensions
Support in change management
Trust Our Expertise as a Certified Partner

As a certified Contentserv implementation partner, we will consult you with regard to
the

implementation

the

connection

to third-party systems
the smooth

operation

of your systems
the

enrichment

of informative product data
Parallel to the system implementation, we support you with process management, change management and data governance.
With our experienced developer team, we can also realise requests beyond the standard features.
We offer comprehensive assistance from the start to the end of your project. Our goal is to significantly increase the efficiency of your business processes in the long term.
Selected Contentserv References
FAQ – Frequently Asked Questions About Contentserv
01
What is Contentserv?
Founded in 1999 in Rohrbach, Bavaria, Contentserv specialises in the development and sale of software solutions for PIM, MDM and DAM systems. The company offers an all-in-one cloud solution for gathering, managing and distributing product information, such as product descriptions, images, videos, prices and technical data. The system is also available as an on-premises variant.
With the solution, you can
eliminate data silos
create personalised product experiences
activate sales channels
measure content performance
02
How much does Contentserv cost?
The cost is variable and depends on several factors, such as
company size
number of products to be managed
desired features
user count
As a certified Contentserv implementation partner, we are happy to advise you on the implementation and use of the system as well as the associated costs. Contentserv offers a free trial of the solution.
03
Who is Contentserv suitable for?
The all-in-one cloud solution is aimed at marketers, product teams and IT professionals of large companies and organisations. It is specifically designed for companies that
need to manage several products and a large amount of product data
want to map complex products and services
plan to distribute product information across all channels (e.g. on websites, in online shops, in print catalogues and on social media)
Contentserv is suitable for all industries. Clients from sectors including fashion, retail, food, technology and construction already trust the company.
Want to learn more? I'm looking forward to your questions!