Contentserv doesn't just thrill with a Contextual Multi-Domain MDM (DxP) platform, which combines all the functionality of the systems listed above into a single solution. Contentserv also offers a new generation of product data management through its enterprise PIM solution.
As a Contenterv partner, we'll support you, for example, in the areas of product and master data management, as well as in process, opportunity management, and data governance.


Trust the Knowledge of a Contentserv Partner
As a partner of Contentserv, we'll advise you on the implementation, connection to third-party systems (for example digital asset management systems such as CELUM), smooth operation of your system, and creation of SEO-relevant product descriptions. We also offer services that go beyond system implementation, such as: Process Management, Change Management, and Data Governance.
Through comprehensive support from our certified next generation PIM consultants from the start to the end of your project, we pursue the goal of increasing the efficiency of your business processes significantly (and in the long term).
What We, as a Contenstserv Partner offer
Introduction & Integration
Development of data models and authorisation concepts
Implementation of your PIM/MDM system
Connection to third party systems
Smooth operation of your system
Creation of SEO-relevant product descriptions
Education & Trainings
Process management
Chance management
Data governance
Your Advantages with Contentserv
Contentserv isn't just a PIM system, but part of an interplay between a fully integrated MAM system and a seamlessly connected multi-channel component for online, e-commerce, and print management. With this perfect interaction, Contentserv offers an eco-system and a state-of-the-art solution. What other advantages does Contentserv offer?
Multi-Domain
Completely web-based & mobile app available
Low time-to-market of products
Expansion to enterprise marketing management system possible
Playout of the content is independent of the output channel
Very good usability
Asset management
Very good print-publishing processes
Highly flexible data model
Quality rules and Quality gates for the continuous improvement of data quality
Fully integrated MAM
Onboarding portal for integrating data from third-party systems
With the Enterprise PIM solution from CONTENTSERV, companies can access their product data and, via the Contextual MDM platform, all product - related information and content from a wide variety of sources - from suppliers, manufacturers, branches, agencies, etc. - Efficiently collect, manage, and deploy.
With comprehensive contextualisation features, users ensure that they always communicate the right message to the right person at the right time. CONTENTSERV is characterised by a user-friendly and simple operation. The solutions can be quickly anilyd eas adapted to the needs of the user and to specific requirements of individual industries. In addition, the architecture of the software is designed for maximum scalability in a grid-based cloud environment.
As a technology leader in the field of product information management and digital asset management, CONTENTSERV makes it easier for thousands of users to work in marketing every day. With the Marketing Content Platform, all marketing processes, such as the management and control of content across all touchpoints, are streamlined and enormous cost and effort time savings achieved. For fast and consistent communication across all channels - online as well as nationally and internationally.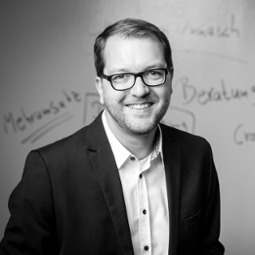 Want to learn more? I'm looking forward to hearing from you!
Christian Onnasch
Account Executive
Digital Business
Start now with Contenserv!