Well Sorted Data is the Key to Success
For years, renowned companies throughout Europe have relied on open source software from Akeneo. The French company, headquartered in Nantes, manages to provide user-friendly and high-profile solutions for a common problem:
How can the data from products, suppliers, and customers be efficiently managed, maintained, and even enriched so that they inspire customers and make even better use of all company data?
As a certified Akeneo partner we'll support you with efficient product data management. With Akeneo, companies can bring together all data relevant to a product and can intelligently channel where and what is being played out. The efficiency of the tool promotes growing sales and generates added value while delighting end customers across all channels.


Our Services as an Akeneo Partner Agency
Count on our experience and expertise in consulting. Together we'll find out which PIM system suits you best and how you can make your data fit for the future. Once the decision has been made, we'll take care of the implementation of the software, create innovative rights and role concepts, and develop the best interface solutions to harmonise the PIM with third-party systems. We'll also be your point of contact concerning the daily, smooth operation of the system and we're at your disposal for corresponding questions such as SEO-optimised product descriptions.
As a full-service agency, we also have experience in consulting on and can help you with process management, change management, and data governance. We can also provide workshops for decision makers and training for employees, so you're in good hands with us from the get-go, as far as designing your digital customer relations is concerned. And for this, a future-proof PIM system is a particularly essential component.
Benefit from an Akeneo Partner's Knowledge
Introduction & Integration
Extensive consultation
Implementation of your PIM system
Development of data models and authorisation concepts
Connection to third-party systems
Smooth operation of your system
SEO-relevant product descriptions
Training
Process management
Chance management
Data governance
Akeneo is an efficient tool for contemporary product data management. With a PIM system, various data relevant to a product can be recorded in one software, processed from different areas of the company and processed in a targeted manner. Via interfaces, the PIM system can be combined with other software solutions such as a CMS or e-commerce shop system.
Central data management
Facilitate data migration, maintenance, and clean-up
Expandable role management
Automation of repetitive processes
Data export to all channels
Teamwork assistent
Asset management
AI-based data analysis (Franklin Insights)
Akeneo is an easy-to-use PIM system that covers everything you would expect of a PIM in an enterprise edition. Central data management or user-friendly data import, various ways to enrich, analyse and filter this data on different channels. Workflows can be configured and traces reconstructed, data quality is automatically checked before it's played out.
Akeneo can be interfaced with other tools such as the Celum image database or any e-commerce system. Whether B2B or B2C - with the so-called "best-of-breed" approach, a system landscape optimally tailored to your company can be created that offers your customers that multichannel experience that inspires them.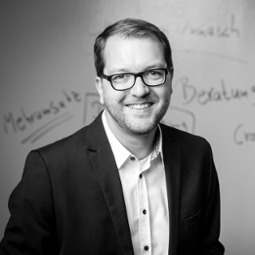 Want to learn more? I'm looking forward to hearing from you!
Christian Onnasch
Account Executive
Digital Business
Got More Questions about Product Data Management with Akeneo?