Magic Software was founded in Or Jehuda (Israel) back in 1983. The Nasdaq-listed company has extensive experience in connecting a wide range of system landscape components.
Today, the company still has its headquarters in the greater Tel Aviv area. With 24 offices, for example in Silicon Valley and Munich, Magic is present worldwide. Up to now, the company has always remained independent and has not merged with larger players. However, it maintains important strategic partnerships with global market leaders such as Salesforce, SAP, Microsoft and Oracle.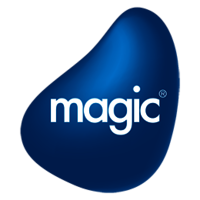 Features of the Magic xpi Integration Platform
The Magic xpi integration platform is characterised by a high degree of connectivity of a wide range of systems. It supports cloud-based solutions, systems hosted on-premise as well as hybrid software. This means that a cloud-based CRM software can be connected to an on-premise ERP solution, but also to various shop systems, for example in B2B and B2C.
Magic xpi stands for agility and speed in implementation and is particularly aimed at medium-sized companies without large IT departments. The solution is mostly code-free and defines itself as a no-code platform. What this means is that even employees who do not have a development background can use the platform to create, use, test and monitor integrations themselves after appropriate configuration, implementation and training.
Another USP of the solution is that no data is stored or analysed. Data sovereignty remains with the customer; Magic xpi sees itself more as a »data hub« that ensures data exchange as quickly as possible, but does not collect any data itself.
The Magic xpi Integration Platform Allows You To
create certified interfaces and customised integrations as a citizen developer (no-code approach)
sort and reduce impenetrable sets of interfaces
consolidate heterogeneous system landscapes
break down data silos
comply with all data protection requirements
meet your company's compliance requirements
benefit from transparent cost plans in different subscription models
use the extensive integration portfolio as a medium-sized to large company to pursue an ambitious growth plan with a smart integration strategy
Trust in the Know-How of a Magic Partner
As a certified Magic partner, we are your competent digital agency for integration projects, i.e. the connection of a wide range of systems via customised interfaces.
We have long-standing experience in consulting, concept creation and implementation in the areas of interface management, data, system and platform integration. Our digital experts are happy to support you in implementing an integration solution that drives your digital business forward.
We Take Over
the consulting and creation of a successful integration strategy concept
the requirements elicitation, development and implementation of Magic xpi
the component configuration and personalisation of your digital business platform in general and the interface management with Magic xpi in particular
the training of your employees in using Magic xpi
Want to learn more? I'm looking forward to hearing from you!