What Is Microsoft Power BI?
The business intelligence tool Microsoft Power BI supports business users and data scientists in generating insights from corporate data using interactive visualisations. The market leader among BI systems provides an extensive online platform to guide you on the path to data-driven business and well-founded business decisions.
Microsoft Power BI enables the automatic consolidation of your data and makes it available in interactive reports and dashboards. Thanks to Microsoft Power BI, users can gain insights into corporate data – regardless of their expertise. They can analyse this data with the help of AI, enabling them to make well-founded decisions. Microsoft Power BI is part of Microsoft Power Platform, can be integrated into your existing Microsoft infrastructure and can be used by a wide range of people.
Power BI Showcase – Test Your Power BI Report Now
How is a report structured? How do you use a report? Check out our interactive showcase and see for yourself. Set and change various filters. Take a look at different graphics and visualisations. Give it a try – you will not regret it!
Do you have any questions about Power BI reports? Our experts are happy to answer them.
Power BI Training Courses with dotSource
When it comes to implementing Power BI, we support you all along the way. An important part of our service portfolio is training your employees in working with Power BI.
We impart knowledge to your employees using your company's data. This way, they can achieve better learning outcomes and put their initial learnings directly into practice.
We train your employees in
mastering Power BI with regard to the creation of reports and dashboards
publishing reports and sharing them within your company
correctly using Power Query and DAX
modelling data sets
making optimal use of data flows
Work with dotSource to make data expertise an integral part of your business!
Our Holistic Approach Makes You a Power BI Professional
dotSource Supports You Before, During and After the Implementation of Power BI
Before the Implementation
We audit existing reports
We identify your requirements together with the individual departments
We help you define KPIs
We devise reports and dashboards and set up the data infrastructure
During the Implementation
We connect source systems via ETL processes
We support you in storing your data in a data lake and data warehouse
We create reports and dashboards
We hold training courses
After the Implementation
We provide support in further developing your business intelligence processes
We provide you with new information, webinars, conferences and blog posts on data-driven business
This Is Why dotSource Is the Right Power BI Partner at Your Side
Our certified Power BI consultants have extensive expertise in the field of business intelligence and data warehousing
By working with prototypes, we quickly generate solutions that your employees can use operationally, promoting acceptance in your company
In addition, we offer training courses for your employees – make data expertise an integral part of your business!
We support you in connecting data sources, for example with SOAP, SQL or CSV
Furthermore, we help you analyse data, for example from your shop, PIM or CRM systems
Free support for your Azure infrastructure via our cloud solution provider Ingram Micro is also possible

Power BI Use Case: The Collaboration Between KWS and dotSource

KWS Makes Data-Driven Decisions Using Power BI
With Power BI, KWS benefits from
integrated and harmonised data sources
analyses and reports backed by professional advice
regular support by highly qualified dotSource data scientists
a dotSource hotline for support enquiries submitted by KWS employees
in-house training courses in using Power BI
Find out more about the implementation of Power BI and business intelligence consulting for KWS!
What Is the Difference Between Power BI Desktop, Power BI Service and Power BI Mobile?
Power BI Desktop
The free desktop component of Power BI is your starting point for in-depth analyses and calculations. Using pre-built connectors, you can integrate data from your systems, transform data from different sources and link it to models. Power BI supports you in defining core KPIs and modelling BI reports.
Power BI Service
Power BI Service is the software-as-a-service component of Power BI. It allows you to share reports and data models created in Power BI Desktop and use them for data-driven communication in your Microsoft services. Access your data from anywhere, create dashboards, define goals and support the use of data across your entire company. In Power BI Service, you can also enable further features such as data flows, automatic updating and role-based security concepts.
Power BI Mobile
With the Power BI mobile app for iOS and Android, you can easily access reports and dashboards while on the road. Always keep an eye on your most important KPIs – regardless of where the data sources are located.
Power BI Takes Your Business to the Next Level – Benefit from the Following Advantages
With Power BI, you can automatically make data available to your company. Easily connect data from different sources, such as individual data warehouses, data lakes or even simple Excel spreadsheets. The clear dashboards simplify the analysis and reporting of data considerably.
A particular advantage of Power BI is that it can be excellently integrated with existing tools from the Microsoft Office suite.
Other system integrations are also possible, for example with PIM, CRM or shop systems.
Moreover, Power BI can easily be extended with products from the Microsoft Azure suite. We are happy to advise you on additional extensions involving SQL databases, Azure Data Lake V2 or Azure Analysis Services.
FAQ – Frequently Asked Questions About Power BI
01
Is Power BI Free?
Power BI consists of several components and offers different licencing models at different costs. You can download Power BI Desktop for free and use it locally. Power BI Service can be used at no charge with a Free licence. However, it only has a very limited range of features and is not intended for commercial use. To make the most of Power BI, we recommend a cost-effective Power BI Pro licence for individual users.
02
Why Power BI?
Power BI is a market leader in the field of business intelligence tools. It is an affordable way to get started and enables excellent integration with other Microsoft products, for example Office 365. With the help of Power BI, your employees can create reports on their own and share them with the rest of the company. Power BI also makes it possible to automate data supply. This means that you always work with up-to-date data and save time and resources.
03
When Do I Need Power BI Premium?
As the number of users increases, a Premium licence starts to make sense. While Power BI Pro licences are for individual users, a Power BI Premium licence enables your entire company to use the software. A Premium licence gives you access to additional Power BI Service features, including AI-based data insights, enhanced data flow capabilities and the ability to process larger amounts of data.
04
How Does dotSource Help you With Power BI?
dotSource supports you before, during and after the implementation of Power BI. Our services range from the creation of reports and dashboards, the set-up of your data infrastructure and the connection of source systems to training courses for your employees. Our goal is to build an effective data landscape that benefits your employees.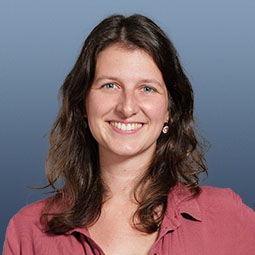 Want to learn more? I'm looking forward to hearing from you!
Jule Flachenecker
Partner Manager