Content Commerce: No Commerce Without Content
Whether B2B or B2C: users browse the Internet not only for specific products, but also for information, advice, tips and inspiration. As a brand, retailer or manufacturer, you can use this particular aspect to your advantage.
With the right content commerce strategy, you can connect your products and services to relevant and contextual content. By providing engaging content such as blog posts, podcasts, videos or social media posts, you benefit from higher conversion rates and better Google rankings. You can also offer your target audience real added value and ensure that your brand and products are visible to (potential) customers at an early stage in their journey. This way, you can reach your customers even before they make a final purchasing decision.
Strengthen Your Brand with Content Commerce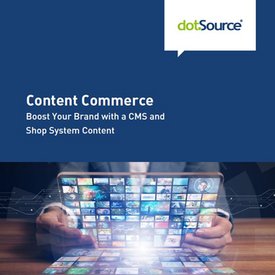 In our »Content Commerce« white paper, you can discover the world of content commerce and experience how high-quality content can be used to promote the sale of your products or services. Valuable insights and practical tips support you on your path towards a successful content commerce strategy.
Benefits of Content Commerce
Improved Google Rankings
Content that attracts users ensures that your website is perceived as highly relevant by search engines
Content that provides added value is rated more positively by search engine algorithms
This improves your website's ranking in search results
It also ensures increased visibility and activity (traffic) on your website
Higher Conversion Rates
Users spending more time on a website results in a higher likelihood of conversion
This increases the chance of users making a purchase
Interesting content that provides additional information and test reports, for example, helps users make a purchasing decision
Satisfied users convert and boost sales
Strengthened Brand Identity and Customer Loyalty
High-quality content helps you impress your customers with your website
Remarkable content further highlights your professional expertise
This strengthens your brand identity and enhances customer loyalty
It also helps your brand stand out from the competition
What does the perfect shopping experience look like? In B2C, it is essential for an online shop to have a modern design and deliver excellent performance from the first page and search options to the check-out stage – across all devices, from smartphones to desktop PCs. Moreover, blogs and social media channels are crucial, combining added value in terms of content with shopping features.
B2C Best Practice Britax Römer: Merging Content and Commerce to Create a Unique and User-Friendly Experience
In this success story, we show you how Britax Römer uses Salesforce to merge content and commerce in B2C. Thanks to the integration of content elements in e-commerce, the pushchair and child car seat manufacturer ensures an optimal customer experience.
In B2B, the digital availability of business- and work-relevant information is the most important added value in terms of user experience. By providing informative content, you demonstrate your expertise as a B2B company. Furthermore, you position yourself as a trusted source of information and solutions. This results in sales and service consultants as well as customers having a positive experience with your content. Content commerce in B2B can thus help pique the interest of potential B2B customers and convert them into qualified leads.
B2B Best Practice hagebau: Content Commerce for All Partners
Find out more about how hagebau created an innovative content delivery network. hagebau now provides customised content for various e-commerce solutions, enabling all partners to adopt a consistent content commerce strategy.
Our Services as a Content Commerce Agency
The merging of content and shopping experience requires companies to implement new processes, employees to take on new responsibilities and departments to collaborate with each other. With our portfolio and expertise as a content management system (CMS) agency, we are happy to assist you.
Before Your Content Commerce Project
Development of an individual content commerce strategy
Evaluation process to find the most suitable system architecture for your content commerce strategy
Selection of the right CMS or e-commerce solution based on our requirements workshops, taking into account your website specifications
Planning and creation of minimum viable products in the field of UX design
During Your Content Commerce Project
Implementation of your strategy with the right CMS and e-commerce system
Integration of your new solutions into your existing system landscape
Taking over the support of your existing CMS and e-commerce system (if required)
After Your Content Commerce Project
A Selection of Our Clients That Have Already Strengthened Their Brand with Content Commerce
FAQ – Frequently Asked Questions About Content Commerce
01
What is content commerce?
Content commerce represents the merging of content marketing and e-commerce. This means that high-quality content is used to attract new customers, boost sales and strengthen customer loyalty. Content can be presented in different formats – from text to video – and in an informative, inspiring or simply entertaining manner.
02
Which channels and formats can be used in content commerce?
For your content commerce strategy, you can use all types of content that fit your products and target audience. These may include blog and social media posts, e-mail newsletters, podcasts, graphics and, of course, texts on your landing pages. The content presented must be easy to follow and should essentially provide your users with added value, for example instructions for product use, purchasing advice or general product data.
03
What are the benefits of content commerce?
Content-driven commerce offers several benefits when it comes to selling your products and services. The right content commerce strategy ideally boosts your sales through an enhanced customer experience, which includes providing your customers with additional product information, thereby reducing return rates and the workload of your customer service department. In addition, high-quality content increases the time users spend on your website, which contributes to improving your Google rankings as well as organic traffic on your website. High-quality content also helps you stand out from the competition.
04
What do you need to keep in mind when it comes to content commerce?
There are a few things to consider when implementing content commerce. Developing an adequate content marketing strategy is the first essential step. It is also crucial to define goals and target groups as well as to evaluate the current state of your website. Moreover, the channels and formats for presenting your content need to be adapted to your target groups – and to your products and services. With the right CMS, you can personalise your content to suit specific target groups. In addition, you should make sure to carefully analyse the usage data of your website and constantly optimise your content. Our team is happy to answer any further questions you may have.
05
Which KPIs do you need to consider in your content commerce strategy?
A variety of key performance indicators (KPIs) can be used to measure your success. However, it is vital that you focus on the KPIs that are relevant to your target groups, business goals and strategies. You can find more information in our »KPIs in E-Commerce« white paper. Relevant KPIs may include the following: your rankings on Google's search engine results pages (SERPs), conversion rates, time on site and bounce rate. Our experienced team is happy to assist you in developing the right content commerce strategy.
06
How can you personalise content in e-commerce?
There are several ways to personalise your content for specific target groups. These range from tailored newsletters and discount offers to online shop texts and more. The basis for the personalisation of content is your customer data. This allows you to cluster target groups, which you can then provide with personalised content. The technical infrastructure for adapting content is based on various modern content management solutions. As a CMS agency, we are happy to advise you.
Do you want to learn more? I'm looking forward to hearing from you!