dotSource Is an Adobe Gold Solution Partner
Founded in 1982, the San Jose-based software company is a globally operating solution provider in the field of digital experience management.
Adobe Experience Cloud combines tools for commerce, marketing, analytics and content on one platform and thus ensures an ideal and integrated customer experience.
As an Adobe Gold Solution Partner, we support you in
the strategic concept creation
the implementation of Adobe solutions
their seamless integration into your existing system landscape
the training of your employees in using Adobe solutions
Adobe in Comparison to Other Digital Experience Platforms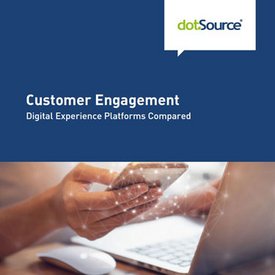 You know the benefits of a digital experience platform, but ask yourself what differentiates Adobe from other providers? Then our »Customer Engagement – Digital Experience Platforms Compared« white paper is just right for you.

Adobe Commerce – Turning E-Commerce into an Experience
Adobe Commerce is the leading system for digital commerce. The e-commerce solution from Adobe goes far beyond the basic process of selling products online. We support you from the strategic concept creation and implementation or migration to the training of your employees.

Adobe Experience Manager – Personalised Customer Experiences on All Channels
With Adobe's multi-award-winning content management system, you can create the ultimate digital experience and inspire your customers with personalised content across all channels.

Adobe Analytics – Tracking in Compliance with Data Protection Regulations and Advanced Analytics
Adobe Analytics enables you to analyse data across all channels throughout the entire customer journey. Use this tool to make data-driven decisions.

Adobe Target – Improve the Experience of Your Customers
With Adobe Target, you can provide your customers with the right content to meet their needs. Use machine learning to create personalised offers for your customers – and make well-founded decisions through A/B testing and multivariate testing.
Why We Are the Right Partner for Your Adobe Project
Close Partnership
For trusting collaboration and transparent processes, we as an agency are in regular contact with our partner Adobe. In addition, our experts regularly take part in Adobe training and certification courses and constantly expand their knowledge.
Multi-Cloud Expertise
We provide you with all Adobe solutions from one source. With a central contact for all your Adobe solutions, you are guaranteed maximum synergy effects, while frictional losses are minimised.
Mentoring and Support
From requirements elicitation and configuration to daily use – our Adobe experts are always available to provide you with help and advice.
Our Expertise as an Adobe Partner Is Trusted By
We Implement Your Individual Adobe Solution
FAQ – Frequently Asked Questions About Adobe Experience Cloud
01
What is Adobe Experience Cloud?
Adobe Experience Cloud is a platform. Its goal is to deliver an ideal customer experience by creating seamless and personalised digital experiences for your company's customers – across all channels. Adobe Experience Cloud includes the following products:
Adobe Experience Manager for content and digital asset management
Adobe Analytics for analysis of customer behaviour
Adobe Target for targeting and personalisation
Adobe Campaign for cross-channel customer engagement
As a digital agency and long-standing Adobe partner, we are happy to advise you on the products and services available as part of Adobe Experience Cloud at any time. Contact us now!
02
How can Adobe Experience Cloud help create better digital experiences?
The cloud helps provide an excellent digital customer experience and better understand your customers based on their behaviour. It serves as a platform for collecting, analysing and using data on customer behaviour. The cloud assists you in
gaining a better understanding of your customers' behaviour
delivering personalised experiences based on behavioural data
providing consistent and relevant data across all channels
creating and automating campaigns for higher customer loyalty and conversion rates
03
Who is Adobe Experience Cloud suitable for?
B2B, B2C and D2C: the cloud is suitable for practically every company, regardless of size, industry and turnover. The platform is ideal for companies that
use multiple digital channels, e.g. websites, social media, online shops, mobile devices, etc.
want to provide their customers with a digital and personalised customer experience
manage content for various digital channels
want to focus on marketing and content-rich engagement
Want to learn more? I'm looking forward to hearing from you!