TYPO3 Agency: Obtain Further Insights into Different Content Management Systems in Our White Paper!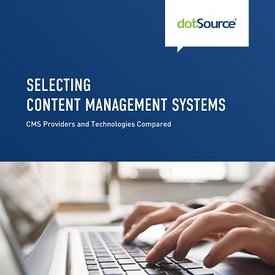 CMS Providers and Systems Compared
Find out in our »Selecting Content Management Systems« white paper how to select the most suitable CMS and unlock the full potential of your website with innovative technologies.
TYPO3 is one of the oldest CMS solutions on the market. First launched in Denmark in 1997, the TYPO3 Association is now a non-profit organisation. The licence-free CMS has more than 500,000 enterprise users worldwide.
TYPO3 has been particularly widely used in the DACH region. The system is web-based, which means that content managers can simply log in through a web browser and create or edit content.


TYPO3 Agency: Our Services
Our TYPO3 specialists will be happy to support you with the implementation of the modern CMS solution. We will take over the following for you:
Before the TYPO3 Project
Development of a successful content management and content commerce strategy as a CMS agency
Requirements analysis to effectively meet your use case
Workshops with CMS experts
Development and evaluation of the required range of features
During the TYPO3 Project
Integration of the CMS into your existing system landscape
Comprehensive and individual configuration – from basic set-up to the operation of TYPO3
Development of the required interfaces for your systems
No Licensing Costs: The CMS is 100 per cent open source and thus perfectly suitable for cost-sensitive projects.
Multilingual Back End: About 50 different languages can be set as the default language, which means that you do not necessarily have to work in English.
Multisite Management: TYPO3 makes it easier to manage several websites using one CMS installation.
Extensive Rights Management: Admins can set up different roles and rights for each user.
Easily Customisable: Thanks to its modular structure, the configuration language TypoScript and the option of locally outsourcing code via XCLASSes, TYPO3 allows for virtually unlimited extensibility.
TYPO3: Features and Assistants
Page Tree: Effective Website Management
As an enterprise CMS, TYPO3 is designed specifically for large websites with extensive content and page structures. The page tree feature enables you to easily manage a large number of linked pages. You can also make individual pages visible or hide them.
Translation Assistant: Powerful Language Tool with Automation Capabilities
The translation assistant is a powerful tool for providing content in different languages. Translations can be linked to the original content, allowing you to partially automate multi-language management and thus the individual translations.
Redirect Manager: Effortlessly Create URL Redirects
TYPO3 comes with a built-in redirect manager that can be used to conveniently create and manage URL redirects. When renaming pages, redirects can be set up automatically. This way, troublesome 404 errors can be avoided and website visitors always find the right content.
Rich Text Editor: Extensive Text Formatting for Authors
When using TYPO3, editors are supported by a Rich Text Editor. This allows you to enter, manage and design texts very easily. No specific technical expertise is required for this and you can benefit from the WYSIWYG (»What you see is what you get«) principle.
File Manager: DAM Functionalities for Your Images and More
To ensure that your files are properly organised for the CMS, TYPO3 offers an integrated file manager with DAM functionalities. Create your own folder structure to always stay on top of things and link content efficiently. You can also manage the metadata of all files centrally, for example to ensure accessibility.
User and Rights Management: Access Management for Your Team
With user and rights management, you can precisely control who has access to what and configure individual views for specific roles. This way, users can only see what they need for their tasks – in their own workspace.
FAQ – Frequently Asked Questions About TYPO3
01
How can your company benefit from using TYPO3 CMS?
TYPO3 has distinctive features for managing large websites, making it possible to view and edit even complex page structures very easily.
The CMS can grow with you. Extensions add new features to the solution and allow you to meet new requirements on an ongoing basis.
Thanks to the extensive features for assigning rights and roles, you can precisely control who has access to different aspects of the solution and to what extent. As a result, employees can only see what they need for their specific tasks.
TYPO3 is an open source solution. Apart from the cost advantage, a wide range of extensions and updates for the solution are available thanks to a very active community of developers. With its long-term support, the software solution is perfectly geared up for the future and receives regular updates. This enables the long-term use of a single version of the system, which reduces maintenance and migration costs.
02
When is a CMS worthwhile?
A CMS such as TYPO3 is suitable for most website operators. With a CMS, you can separate content from design, allowing your employees to create, edit and manage content without website programming expertise. These days, there are almost no static websites, meaning there is regularly changing content that needs to be managed – for different devices and across various channels. For every view, the website must be usable and implemented in line with responsive design principles. Without a CMS, this would require a great deal of effort during normal day-to-day business.
In general, companies that regularly change content on their website or run a blog prefer to use a CMS rather than a traditional web design.
03
How much does a TYPO3 website cost?
There are no licensing costs associated with simply using TYPO3. The price for its implementation varies greatly from project to project, depending on project duration and scope. When implementing such a system, it is generally advisable to draw on the expertise of an experienced digital agency.
04
Who is TYPO3 suitable for?
TYPO3 was originally developed as an enterprise CMS and is thus particularly suitable for large companies. There, many different employees often work simultaneously on websites. TYPO3 comes with its own programming language, which means that its implementation requires slightly more effort and experience; however, companies can then customise their website virtually without limits. Consequently, you can tailor your website to your own requirements. Many features such as the extensive page tree and multisite management capabilities highlight that the solution is oriented towards comprehensive websites for large companies.
05
Why should companies work with dotSource as a TYPO3 agency?
dotSource has already successfully completed numerous TYPO3 projects. When implementing a new CMS, it is best to seek assistance. As an experienced CMS agency, we support you from the requirements analysis to the complete configuration and customisation of the CMS.
Want to learn more? I'm looking forward to your questions!