CMS: Customers Expect Valuable Content
Today it is no longer enough to simply present products and sell them. Customers expect interesting, high-quality content. Whether informative or entertaining, whether with TYPO3, Magnolia or Contentful: strengthen customer loyalty and increase your turnover by providing excellent content across all touchpoints with the right content management system and the right content management strategy.
Modern content marketing gives you crucial advantages:
Increased brand visibility through up-to-date web content
Positive brand image through unique content
Automated playout for various media formats
Personalised customer approach across all channels
Digital experiences via content commerce
Intuitive operation even without coding knowledge
CMS: Targeted Approach Instead of Shotgun Approach
Thanks to new technologies and media formats, it is easier than ever for consumers to get an idea of products and companies. This goes hand in hand with increased expectations: customers want to be informed, entertained and inspired. The times when taking a shotgun approach to advertising worked for a mass audience are over.
Modern content management systems (CMS) help provide excellent brand experiences – regardless of whether the content strategy is linked to an online shop or whether it is aimed at imparting exclusive specialist knowledge, for example in the field of engineering and manufacturing.
As a renowned digital agency, we rely on the cooperation with world-class CMS providers. As a partner of Salesforce, SAP, TYPO3, eSpirit, Magnolia and Contentful, we find exactly the software that suits your company and your goals. Our certified developers and consultants advise and support you right from the start – our numerous references speak for themselves.
CMS: Successful with the Right System
Today a content management system is part of the marketing strategy of every company. An effective content marketing strategy ensures excellent digital experiences. This way, turnover and customer satisfaction can be increased.
However, the variety of providers does not simplify the process of making a decision for the ideal content management system. Our »Selecting Content Management Systems« white paper gives valuable insights in this regard.
CMS: dotSource Supports You in Decision Making
Together with you, we find out
which solution suits your business model
which range of functions you need
which interfaces to existing systems are necessary
to what extent the software meets your requirements in terms of design, security, scalability, modular expandability and usability
which development potential the software has in order to be able to map the possible growth of your company
We Rely on the Following Solution Providers in the Field of CMS
A Selection of Our References in the Field of CMS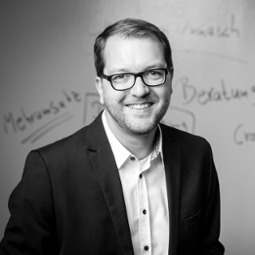 Want to learn more? I'm looking forward to hearing from you!
Christian Onnasch
Account Executive
Digital Business