CMS: Create Valuable Content for Your Customers
Simply presenting your products for sale is no longer sufficient. Customers expect appealing content with added value.
A modern content management system (CMS) helps you manage and distribute your content efficiently. This way, you can offer your customers a much better experience with your brand and products. As a renowned digital agency, we place great emphasis on collaboration with top-class CMS providers.
We have already helped renowned companies such as Pöppelmann, Stadtwerke Jena, Fissler and SPAX with our expertise as a CMS agency.
Modern content marketing offers you the following key benefits:
Increased brand visibility through modern web content
Positive brand image thanks to unique content
Automated content distribution for various media formats
Personalised customer approach across all channels
Outstanding digital experiences through content commerce
Intuitive operation – even without any programming knowledge
Optimised workflows
From Strategy to Implementation: Our Services as a CMS Agency
Content Management Strategy
Together with you, we select the right CMS that checks all your boxes and perfectly fits your shop system. For this purpose, your requirements will first be evaluated.
In joint discovery workshops, our expert team analyses the existing structure and processes of your company. This enables them to prepare specific use cases for the successful implementation of the new CMS.
We address the following questions together:
Which CMS interacts with your shop solution seamlessly?
What capabilities should the CMS have in terms of internationalisation and personalisation?
What options should be provided for professional search engine optimisation and the integration of social media management?
How extensive do the rights and role management, workflows and editing features need to be?
Selecting a Suitable CMS
Which CMS fits your needs and your long-term goals?
Considering the variety of providers, it is worthwhile to opt for the services of a renowned CMS agency. Together we will develop a strategy based on your company's specific goals and select an adequate CMS solution for you.
Collaborative effort is needed to answer the following questions:
Which solution is suitable for your business model?
What range of features do you need?
What interfaces to existing systems are essential?
To what extent does the solution meet your needs in terms of design, security, scalability, modular extensibility and usability?
What development potential does the solution have to accommodate your company's future growth?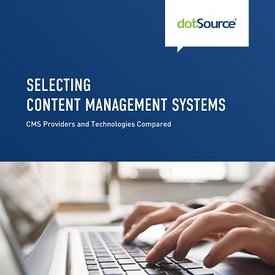 Comparison of Different CMS Technologies
Strengthen your company and brand with the right CMS!
In our »Selecting Content Management Systems« white paper, you can find out which solution best fits your requirements and system landscape.
CMS Implementation and Integration
With the right recommendations for action, we can effectively address your requirements and problems. Furthermore, we can support you in the implementation and everyday use.
As a CMS agency, we take over the following tasks for you:
Current CMS Trends: Content Commerce and Headless CMS
Content Commerce: Merging of CMS and Shop System
Content commerce ensures that the entire customer journey is impressive. By bringing together content distribution and shopping experience, your customers have the option to make a purchase at any time. Nevertheless, for the technical implementation, the CMS and e-commerce solution must also work together.
Multi-Channel Strategy with Headless CMS
The requirements for a CMS solution have changed over the years. The website is only one of the many available media types used to deliver content – other media output channels include mobile apps and social media. With a headless CMS and its APIs, content only needs to be created once before it can be distributed across multiple channels.
We Work with Top-Class CMS Solutions Such As
A Selection of Our References as a CMS Agency
FAQ – Frequently Asked Questions About Us as a CMS Agency
01
Why do I need a CMS?
Today, most online users are not necessarily looking for specific products, but rather for information, advice and inspiration. To gain and retain customers, a company must stand out with high-quality content. The prerequisite for appealing web content across various channels is an optimally functioning CMS.
02
What types of CMS solutions are there?
In a traditional CMS, both content creation and management are integrated. One such solution is TYPO3. Conversely, a headless CMS enables content to be simultaneously distributed across multiple channels. Headless CMS providers include Adobe, Contentful, Magnolia and Bloomreach. As an agnostic CMS agency, we help you find the perfect solution for your company and adapt it to your specific requirements.
03
How much does a CMS cost?
In terms of software costs, a distinction must be made between community and enterprise systems. Community solutions such as TYPO3 are available without any licensing costs. Enterprise solutions such as Adobe, Magnolia and Salesforce require the corresponding licensing fees to be paid. Further costs for system integration as well as hosting are individually adjusted based on the client's specific requirements. dotSource is happy to advise you in this regard.
Want to learn more? I'm looking forward to hearing from you!