Examples of the Sensible Use of Artificial Intelligence – What You Can Expect from the White Paper
Artificial Intelligence – What It Is and What It Is Not
Artificial Intelligence in Digital Business
Use Cases from Various Areas of Digital Business

Digital Experience Platforms
User Experience Design
Product Information and Master Data Management
Retail: E-Commerce and Omnichannel
CRM and Marketing Automation
Online Marketing
Human Resources
Artificial Intelligence in Retail: Use Cases for E-Commerce and Brick-and-Mortar Stores
The daily press is full of articles on the topic of artificial intelligence, yet very few companies have AI projects underway or in the pipeline. Nevertheless, one thing is clear: data-driven business is the future. The range of applications of AI is extremely wide – it ranges from support regarding complex decisions, data-driven business strategies, the automation of everyday processes and concrete improvements in customer service to assistance in the intelligent recruitment of new employees.
Our white paper provides you with in-depth information on the topic of AI and its development. The focus, however, is on inspiring practical examples. In use cases from e-commerce and brick-and-mortar retail, we describe the innovative approaches that already exist in digital business – from digital experience platforms, user experience design, online marketing and marketing automation to content management and human resources.
In addition, we present a thorough overview of the big players that could be considered as AI service providers or as support for training your own AI systems. A glossary containing the most important terms from »Deep Learning« to »Evolutionary Algorithms« rounds off the white paper on artificial intelligence.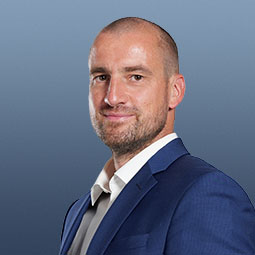 Do you want to learn more? I'm looking forward to hearing from you!
Steffen Schneider
Digital Business