Are You Facing One of the Following Challenges? Reason Enough to Move to the Cloud!
Expiring Contracts
Your existing system contracts are about to expire.
Acquisitions
You want to integrate acquisitions into your IT infrastructure.
Capacities
Your resources are depleted and you want to activate additional resources quickly.
Updateability
Your systems can no longer be sufficiently updated.
Security
Your systems are insufficiently protected and you want to integrate further services.
Compliance
Your IT infrastructure no longer complies with current IT guidelines or government regulations.
Innovation
You want to use new services and expand your business model.
End of Support
The system you are using is a discontinued product.
Our Cloud Migration Services
Software audit
Selection of a cloud service provider
Concept creation and challenging sessions with professionals directly from the provider
Creation of a project plan
DevOps – modern mindset with an agile way of working
Reading Tip: »Migration in E-Business« White Paper
Find out how you can realise the full potential of your business with the right migration strategy.
Many Paths Lead to the Cloud. Which Migration Strategy Do You Choose?
We want to help you digitalise your workloads and use the cloud to your advantage. The different motivations for a cloud migration also result in different paths to the cloud. In order to make your cloud migration a success, we want to show you various approaches.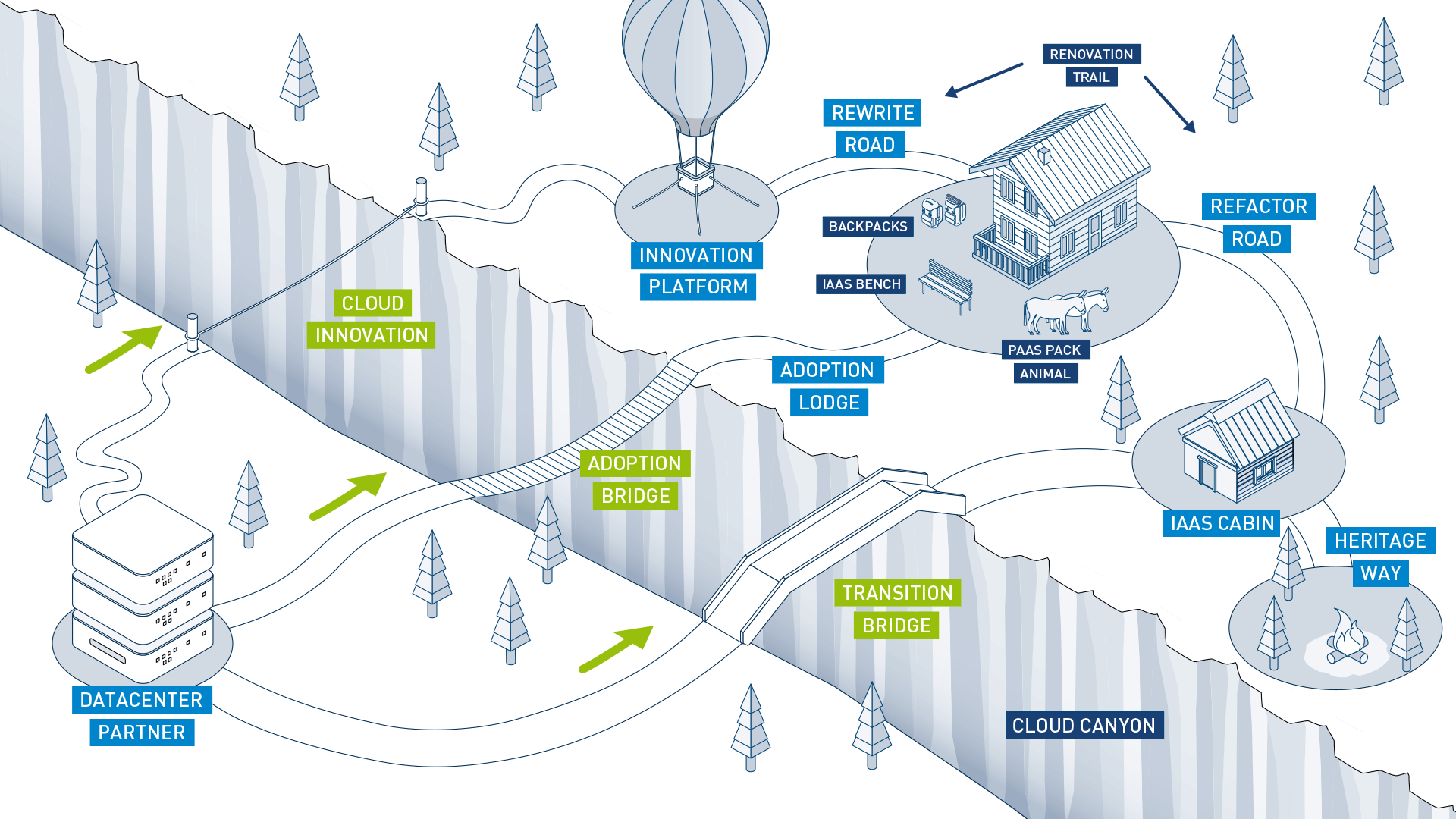 Transition
The easiest and fastest way to move workloads to the cloud is a direct transition of the existing solution using cloud resources. Infrastructure as a service (IaaS), for example, plays a major role here since there is a wide range of infrastructure components to choose from. You »lift & shift« your current solution to the cloud, so to speak.
Pro:
You can respond to urgent challenges such as a necessary provider change due to expiring contracts or even a pressing lack of resources.
Con:
This does not directly improve workloads.
Adoption
In order to not only move workloads to the cloud, but also use the extensive service portfolio for initial improvements, it makes sense to adopt the solution. This requires more effort than a transition, but makes it possible to enrich workloads by using services in order to directly create an advantage.
Pro:
Through minor and medium-scale optimisation measures, you can not only benefit from the advantages of IaaS, but also access cloud services such as a CDN (content delivery network) or DDoS protection.
Con:
The potential of the cloud infrastructure is not fully realised.
Cloud Innovation
Cloud innovation allows the full potential of a cloud to be realised. Various sophisticated services from the portfolio of cloud providers support state-of-the-art software development methods (DevOps, agile development) and software architectures (microservices, serverless). They make it possible to create an agile and individual business model that is built on a technologically stable and at the same time highly flexible foundation.
Pro:
Fully integrating all of your company's workloads into the cloud enables you to reach a new level of innovation in your company.
Con:
The path to cloud innovation is the most comprehensive and requires a high level of migration experience.
Transition and Adoption Can Be the Beginning of Full Integration
The goal should be to gradually shift all workloads into an agile process at the technological and business level. To fully embrace this, we recommend using managed cloud services.
Cloud Migration – We Systematically Lead You to Success
Successfully addressing change requires a well thought out and structured approach. We use tried and tested frameworks that have proven themselves as a flowchart for the strategic orientation and individual steps when implementing cloud migration projects. With such a tried and tested agenda, which is based on best practices, it is possible to easily move your digital workloads to the cloud and assess the effort required.
Strategy
We support you in
defining your goals and motivation for moving to the cloud
creating a clear vision of your future cloud solution and prioritising your goals
securing the support of decision-makers and employees in your company
Planning
Together with you, we develop
the technical concept for your cloud infrastructure
the project plan
measures for employee qualification
Preparation
We provide you with
reliable solutions by using trustworthy guides and best practices
planning support through cross-project experience
extensive expertise through our certified IT engineers
Implementation
As an experienced partner, we
carry out planned migration projects together with you
provide you with help and advice during this iterative stage
keep you constantly informed of current progress
Steering
Benefit from our know-how regarding
agile project management
modern concept creation methods
cost and operations management
security and compliance management
data management and KPI monitoring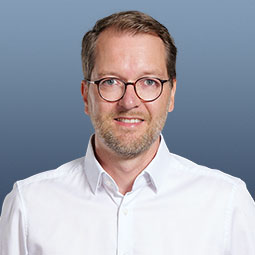 Do you want to learn more? I'm looking forward to hearing from you!
Christian Onnasch
Digital Business