Effective Product Data Management for Cross-Channel E-Commerce and Print Publications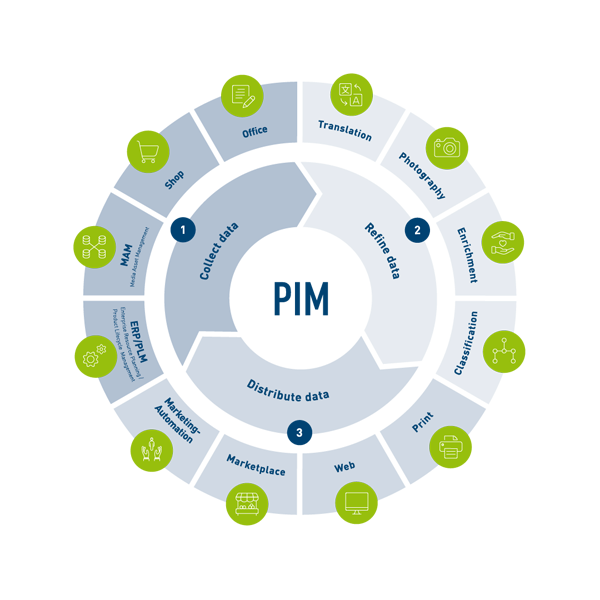 Convincing product presentation is the foundation of a successful competitive strategy. High-quality product data should therefore be a top priority in all companies, regardless of size and industry.
A PIM system is a software solution that manages all product data, corresponding marketing data and services associated with products, such as delivery method. Product information from different sources can not only be provided in a straightforward manner, but it can also be effectively distributed via various channels.
To enable this, data is collected centrally, making it possible, for example, to avoid additional work in product maintenance as well as duplicates. The repeated entry and maintenance of product data in different systems is no longer necessary. This saves time and resources for marketing and sales activities. Centrally available, high-quality and freely scalable product information is created for each output channel.
A PIM system that is tailored to a company's requirements leads to a long-term increase in overall company performance.
Our Services as a PIM Agency
Implementation
Installation, set-up and configuration of your PIM system
Connection to third-party systems (ERP, DAM, e-commerce, database publishing, etc.)
Concept Creation
Digital strategy consulting
Requirements analysis and PIM system concept
Data models, workflows and authorisations
System evaluation
Data management
Support in data onboarding and data quality assurance
Cleansing, validation and optimisation of your data
Removal of duplicates
Data transfer to third-party systems
Services
Project management
Documentation
Process and change management
Data governance
Update and maintenance of your system
Development of extensions
This pioneering project would not have been possible without the mutual and strong trust between us and dotSource, let alone in only six months. In record time, the dynamic and courageous team from Jena realised a project that currently is unique of its kind and takes us a huge step forward in our digital transformation, but above all makes us more competitive.
Cornelsen stands for quality and reliability. We aim to live up to this perception in a cross-media, multi-channel customer landscape. By implementing the new PIM system, dotSource has once again helped us to reach our goal.
With dotSource, we had a competent partner at our side during the entire implementation and beyond. The new MDM software helps us to get a better overview of our data and use it effectively. Ultimately, the entire company benefits from this.
What Is PIM and How Does It Make My Company More Successful?
First of All: What Is Product Data?
To understand what product information management (PIM) is and what a PIM system is capable of, it is essential to know what product data is: The spectrum of product data that a PIM system manages and provides is as wide as that of the products themselves. It ranges from consumer goods to services. In the form of attributes, product data describes products, classifies or categorises them and makes it possible to find them on the Internet. Besides raw product data, appealing product descriptions and high-quality product images ensure a positive customer experience.
A PIM system is thus a software solution that manages product data and corresponding marketing information from various internal and external sources.
PIM – The »Single Source of Truth« That Saves Time and Frustration
This makes it the »single source of truth« for a company's product data. With PIM software automating input and separating the maintenance structure from the output structure, companies save a lot of time and employees save energy because time-consuming repeated maintenance is eliminated.
Automated product data maintenance, mass processing of product data, rights management and various approval workflows also contribute to efficient data management and maintenance. With the appropriate integration via interfaces, a PIM system can be well integrated into existing heterogenous system landscapes. It can receive information from various sources and distribute cleansed as well as refined data to different channels.
Efficient Data Management and Enhanced Product Data Quality
Once integrated into a powerful PIM system, maintained product attributes are automatically available for any future product based on the modular principle. Furthermore, a data model in a PIM system can be designed in such a way that information from a higher-level product model is inherited to multiple variants of a product.
Here is an example from the B2C fashion industry: If a shoe model features Velcro fastening, this product information is displayed for all its different colour and size variants. If you bear in mind that a single shoe model in three colours and six different size variants already comprises 18 individual stock keeping units (SKUs), it becomes clear that you can save a lot of time and prevent data inconsistencies with the right PIM software.
Did You Already Know That You Can Create Digital Marketing and Sales Content with PIM & MDM for Print?
Use the »PIM & MDM for Print« extension to quickly and easily create your own customised print materials.
Our Strong Partners for Product Information Management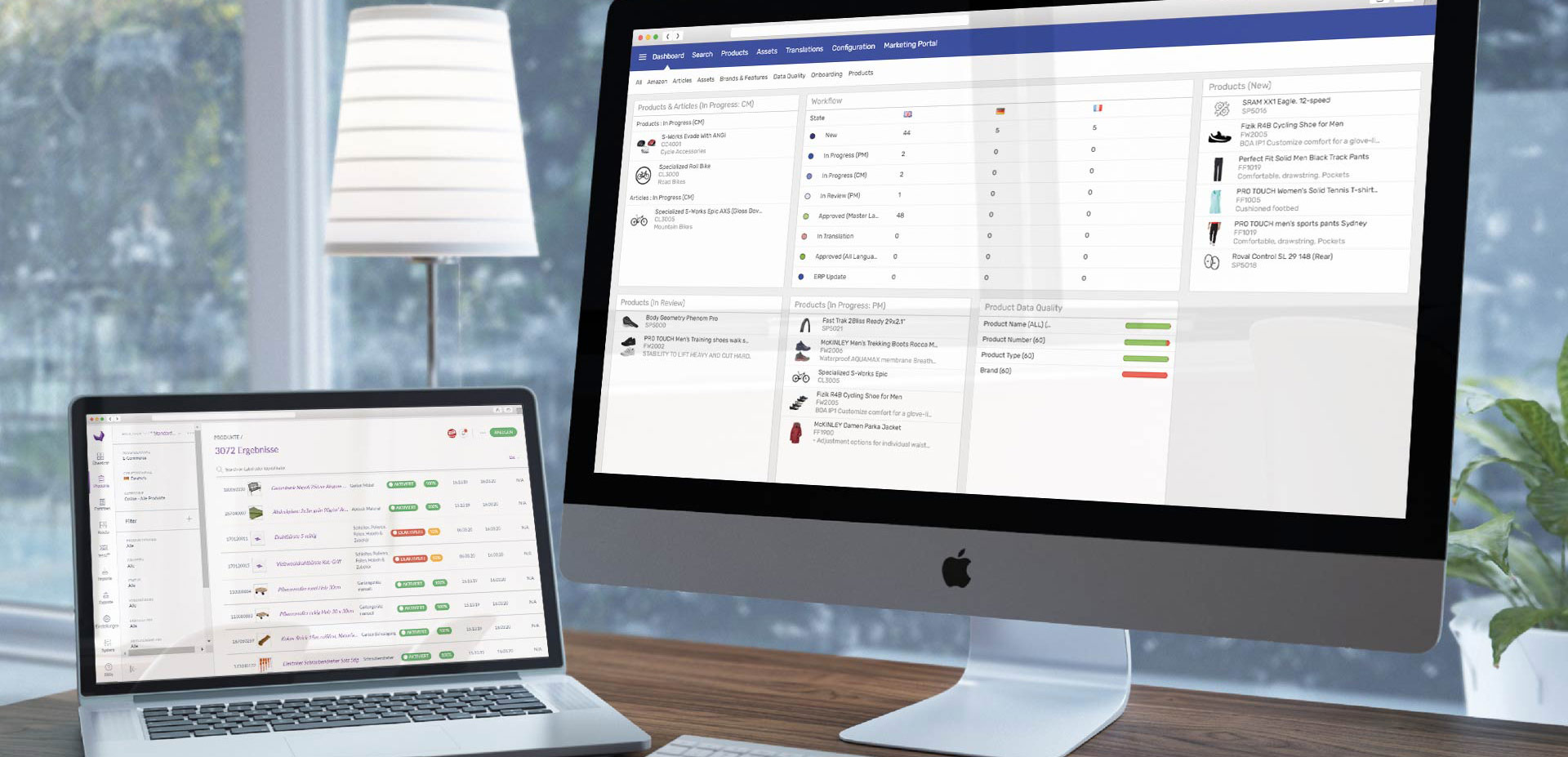 FAQ – Frequently Asked Questions About Product Information Management
01
How do companies know they need a PIM system?
Poor product data hinders corporate growth and often leads to unnecessarily long time to market for new products and services. It also results in inflexibility in responding to structural changes. There is often a need to resort to »one fits all« content because the content cannot be flexibly adapted to different output channels.
02
Which data belongs in a PIM system and which does not?
The task of a PIM system is to provide efficiently managed product data. Customer data, for example, belongs in a CRM tool. Media assets are most effectively managed by a digital asset management system. Some modern PIM systems comprise a DAM solution or DAM features.
03
How much does it cost to implement a PIM system?
The prices vary on an individual basis, but generally, the following is true: Those who seek smart advice and guidance from experienced experts in a system selection process will have a higher ROI. As a digital agency and a certified partner of various PIM system providers, we at dotSource can, for example, negotiate licencing agreements that differ from those you would be able to conclude without an implementation partner.
04
How long do PIM projects take?
Each project has its own dynamics. We have worked on numerous extremely challenging PIM projects, which we managed to successfully complete on time, within scope and within budget. The time frame also depends on whether the employees need to be trained in using the new tool. This is highly recommended.
05
Why should companies work on PIM projects together with dotSource?
As a full-service digital agency, we not only work with PIM solutions, but are also well versed with the corresponding systems, such as online shops, CRM tools, CMS and data warehouses. This allows us to advise you on the implementation of new systems with a unique vision. Together with you, we create a roadmap for the digitalisation of your business processes and provide concrete recommendations for action. Our dedicated team thrives on challenges and has already successfully worked on several PIM projects.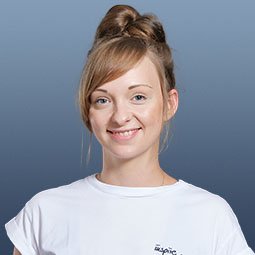 Do you want to learn more? I'm looking forward to hearing from you!
Sabrina Pfeifer
Digital Business