Heidelberger Druckmaschinen AG (Heidelberg) has stood for quality and future viability for more than 160 years. The company has set itself the mission to help shape the digital future of the industry. Since 2018, the Heidelberg Digital Unit (HDU) team has been continually expanding the e-commerce presence, activities and digital marketing of Heidelberger Druckmaschinen AG in a future-proof way.
This way, the company is transforming its own core competencies from analogue to digital in order to set the course for new business models. It also aims to support its customers in their digital procurement processes for consumables and spare parts.


| | |
| --- | --- |
| CLIENT | Heidelberger Druckmaschinen AG |
| INDUSTRY | Manufacturing |
| BUSINESS FIELD | B2B |
| PROJECT | Implementation of the PIM System Stibo Systems STEP |
| PROJECT PERIOD | June 2019 - January 2020 |
| SYSTEM | Stibo Systems STEP |
PIM System Implementation as a Major Milestone in Digital Transformation
In order to create the necessary prerequisites for new business models, dotSource developed a roadmap together with HDM. The technical framework for a project of this magnitude was set with the help of the Stibo Systems solution »STEP«. Besides the integration of DAISY (as HDM calls its PIM system), dotSource also developed and created automated rules, workflows, structures as well as exports and imports. This way, the DAISY team laid the foundation for all future e-commerce activities of 36 online shops in 22 languages, which are operated and developed by Heidelberg Digital Unit.
For the first time, HDM is now able to connect all its ERP systems to a single PIM system. This connection and the automated duplicate matching process enabled the project team to reduce a set consisting of 100,000 product data to a golden record consisting of 65,000 product and master data with the help of 54 contexts (combination of country and language).
In addition, this data automatically flows into the respective shop navigation structure and finds the matching assets in the system.
HDM employees can now profitably process, use and manage all transactional data. Thanks to the golden record, the manual effort was reduced enormously and the way was cleared for more efficient business processes and new business fields. All employees at all locations worldwide benefit from this golden record because the new software supports both the current and the future online shop.
This pioneering project would not have been possible without the mutual and strong trust between us and dotSource, let alone in only six months. In record time, the dynamic and courageous team from Jena realised a project that currently is unique of its kind and takes us a huge step forward in our digital transformation, but above all makes us more competitive.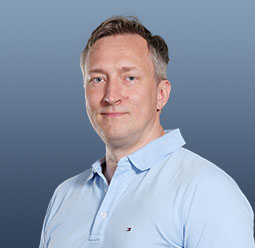 Want to learn more? I'm looking forward to hearing from you!
Marcus Wagner
Account Executive
Digital Business