Become a Direct-to-Consumer-Brand – Take Advantage of the Opportunities Offered by Digital Technologies
Hardly any other industry has been as strongly affected by the rapid changes in consumer behaviour as the consumer goods industry. Today's consumers are looking for the easiest possible way to get their hands on popular products. Direct interaction with the favourite brand becomes the norm.
It is therefore hardly surprising that more and more consumer goods manufacturers, for example our clients Fissler, STABILO and Swarovski Optik, are taking the retail initiative themselves and increasingly focusing their marketing, sales and service activities on customers.
New technologies and channels offer consumer goods manufacturers more and more opportunities to increase their sales without relying on established business models.
Brands that have relied exclusively on middlemen for decades are now building up their own brand shops and becoming active on market places and in social commerce themselves.
As a side benefit, manufacturers also collect valuable customer data to which they did not have access before.
In many places, the consumer goods industry is still at the beginning of its digital transformation. Besides customer knowledge, the implementation of a D2C (direct-to-consumer) model also requires a suitable IT landscape, which often has yet to be set up.
However, the right strategy enables manufacturers to not only catch up with established retailers, but even overtake them by focusing on exactly those aspects that require traditional retailers to rethink their approach: personalisation, service and innovative touchpoints. Our experts are happy to support you!
Product Experience, Social Commerce and Hybrid Business Models
Current trends and use cases for successful online brands can be found in our trend book »Handelskraft 2022«.
D2C with dotSource: We Are Your Partner for Innovative Direct Digital Sales
Meeting the Highest Standards: High-Performance Commerce Platforms
Influencer campaigns and limited deals, such as on Black Friday or Singles' Day, play an increasingly important role for the consumer goods industry. The »first come, first served« idea thrills customers and also leads to traffic peaks on online platforms.
In order to benefit as much as possible from popular shopping events, a stable IT infrastructure and smooth interaction of interconnected systems are essential. Our e-commerce and cloud services experts are happy to assist you in setting up a state-of-the-art system landscape.
CRM & Marketing Automation: Make the Most of Your Customer Data
One of the biggest advantages of direct sales is the immediate access to customer data. After all, this data is the basis for a target-group-specific and personalised approach as well as cross-selling and upselling. With modern solutions for customer relationship management and marketing automation, you can build long-term customer relationships and personalise offers.
In addition, you can directly measure and evaluate the reactions of your customers and thus the success of your campaigns – the basis for successful performance marketing. We are happy to support you in selecting and implementing a CRM and marketing automation tool that suits your needs.
Data-Driven-Business: Optimising Marketing and Sales Channels in a Data-Driven Way
By taking the sales of your products into your own hands, you can monitor the customer journey of your customers from start to finish and thus gain valuable insights. This base data enables you to measure the performance of your channels and marketing measures and to further optimise them accordingly.
We accompany you on your way to becoming a data-driven company by helping you to structure the data obtained and make it usable. Our experts in the fields of data strategy, data engineering and data science help you to make data-based decisions.
Inspiring Customers with Content and Social Commerce
The »social commerce« trend is also becoming increasingly important for the consumer goods industry. Besides the brand's own website, social media is the most important contact point for customers to get inspiration and interact directly with the brand and the community.
In addition to user-generated content and influencer marketing, successful brands mainly rely on how-to videos and live streams to address and advise customers in a targeted manner. Our content and social media marketing experts are happy to support you.
Goodbye Product Search, Hello Product Experience!
Thanks to modern solutions, it takes little effort to process product data for your own marketing and sales channels in high quality.
Clean product data, in turn, can contribute significantly to a positive customer experience.
Product experience management (PXM) allows you to contextualise product data to meet your customers' expectations for a convenient shopping experience to an even greater extent. Our PIM & MDM experts are happy to advise you.
Brand Experience: New Opportunities for Unique Brand Experiences
Growing health and environmental awareness has led to consumers being more critical of manufacturers. Customers want to find out more about the brand, for example in terms of sustainability and corporate philosophy. These values should be reflected at all digital touchpoints as part of the brand experience. The benefit of having your own online presence is that you no longer have to leave brand communication at the point of sales to chance. Our experts are happy to assist you with their expertise in digital brand strategy, brand design and digital marketing.
These Consumer Goods Manufacturers Already Trust in Our Expertise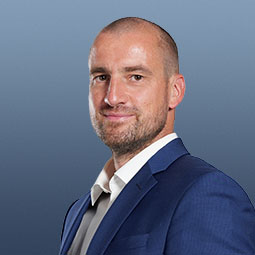 Want to learn more? I'm looking forward to hearing from you!
Steffen Schneider
Account Executive
Digital Business