E-mail marketing, download forms as well as lead scoring, grading and nurturing: with Salesforce's cloud solution, you get the complete package when it comes to the automation of your B2B marketing.
Using it not only gives you more high-quality leads, a shortened sales cycle and personalised messages with dynamic content – the system also helps you break down silos between marketing, sales and service: by distributing tasks across different departments, the workload of employees is reduced and time is saved.
By the way: over the course of the rebranding, the solution has been given a new name – Salesforce Pardot is now called »Marketing Cloud Account Engagement«.
The Right Tool for an Ideal Customer Journey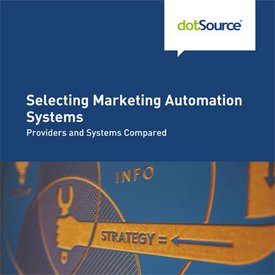 »Selecting Marketing Automation Systems« White Paper
In this white paper, we compare popular solution providers and recommend best practices for marketing automation.
Our Services as Pardot Experts
Before the Implementation
We identify your requirements for the tool and support you in the implementation
During the implementation
We advise you on effective marketing campaigns and help you design outstanding newsletters
Together with you, we configure automation processes for lead scoring, grading and generation
After the implementation
We support you in the creation and analysis of reporting dashboards in Pardot and interpret relevant figures and data together
Why dotSource Is the Right Partner for You
Trusting Partnership: As a certified Salesforce Partner for many years, we are in regular close contact with the software provider and are always up to date on new updates and developments to provide optimal support
Long-Standing Solution Knowledge: Our 50 certified specialists bring best practices as well as rich Salesforce and marketing automation experience to the table, which translates into efficient and fast implementation
Data Experts: When it comes to pipeline optimisation and marketing automation, we have got you covered – we are happy to help you set up and configure Pardot and hold training courses in using the system
Professional KPI Analysis: With our background knowledge of data-driven business, we support you in interpreting relevant KPIs of individual marketing channels and show you how they are connected
Multi-Cloud Expertise: As multi-cloud experts, we also have extensive expertise in working with other Salesforce solutions for marketing, sales and service
Training Courses: As consultants and inspiring thinkers, our Pardot development teams support you throughout the entire process and provide you with far-reaching knowledge for enhanced data literacy in your company

Benefits and Features of Pardot
Form Builder for an Excellent Form Experience: In Pardot's integrated Form Builder, you can freely design forms for your website and capture leads generated by gated content
Gain Qualified Leads with Pardot's Lead Generation: Collect valuable data from website visitors and create qualified leads with form features such as field dependencies, progressive profiling, kiosk mode and tags
Lead Grading as a Key Benchmark: Automated lead grading saves your sales team time in assessing lead quality based on specific criteria and evaluating how to proceed depending on the assessment
Assess Through Lead Scoring: With Pardot's scoring system, you are always informed about how often potential customers have interacted with your Pardot assets and can use this to make segmentations and automation rules
Lead Nurturing for Enormous Time Savings: Save time in communicating with contacts who are not yet sales ready and enable precise and personalised customer contact with drip campaigns
Keep the Most Important Data in View: For simple, fast and meaningful performance measurement, Pardot gives you real-time insights into key e-mail marketing metrics such as deliverability, bounce, open and click-through rates as well as »opt in« and »opt out«
How Pardot Supports Your B2B Marketing
With dynamic content and personalisation, Pardot helps you become a marketing automation champion and better track and manage your ROI and leads
The marketing automation tool offers optimal lead nurturing, allowing customers to separately embark on their own customer journey
With Pardot, you can quickly create and send landing pages and registration forms to deliver gated content for attracting new leads
With this solution, the world's leading CRM provider helps you automate typical marketing and sales tasks, such as lead management, thereby reducing the workload of your employees
FAQ – Frequently Asked Questions About Salesforce Pardot
01
What is Salesforce Pardot?
Pardot is a powerful and easy-to-use B2B marketing automation platform.
02
What can Pardot help with?
Pardot helps you optimise your campaign performance, shows you real-time reports and assists you in lead nurturing, scoring and grading.
03
What are the benefits of using Pardot?
The marketing automation tool helps you achieve several of your marketing goals at once: personalise your e-mail and customer communication, create more efficient sales channels, address your target audience more accurately and use Engagement Studio to engage with your customers in an automated way.
04
What marketing disciplines does Pardot cover?
In addition to the broad field of e-mail marketing, Pardot also offers services such as lead nurturing and qualification, contributes to lead capturing and lets your employees easily create landing pages as well as personalised forms.
We Implement Your Multi-Cloud Solution
Want to learn more? I'm looking forward to hearing from you!