Microsoft Partner – With dotSource, You Have Certified Expertise on Your Side
Founded in 1975, the Redmond-based software pioneer Microsoft is now considered the largest software company in the world. Indispensable in everyday life thanks to Windows and applications such as Office 365, Microsoft can also take your company to the next level with smart cloud and BI solutions. Never lose sight of your KPIs again and benefit from a reliable and powerful cloud architecture! No matter what project you want to implement: dotSource is the Microsoft Partner with official Silver Cloud Platform expertise on your side.
Modernise Your Infrastructure with Cloud Services Now!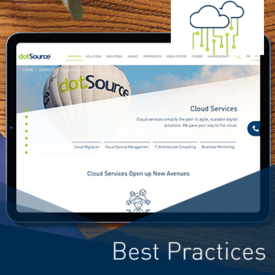 »Cloud Services« Best Practices
Learn how successful companies benefit from cloud services and how Microsoft Azure ensures a future-oriented infrastructure and corporate culture.
Microsoft Azure is one of the fastest growing cloud platforms and one of the world's leading infrastructure as a service (IaaS) providers. Microsoft's cloud platform is a collection of over 200 different tools and cloud services with a focus on designing new solutions.
Develop future-oriented solutions and applications locally on-premises, in the cloud or in Microsoft Edge. Benefit from maximum freedom and flexibility. Work and manage your applications from anywhere. Respond quickly and adequately to new challenges.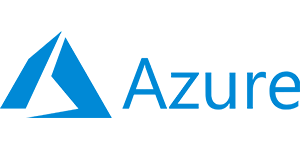 Companies from over 140 countries trust Microsoft Azure. With more than 60 regions, the server network spans the globe.
Why Microsoft Azure Is Worth It

Store Your Data Reliably
Thanks to cloud storage, Microsoft Azure offers various backup and archive solutions. With a failover option and disaster recovery, your IT infrastructure and data can be recovered in case of emergency. Protect yourself from data loss!

Enjoy a Quick and Easy Start
Our Azure expertise offers you a straightforward start. Additionally, Microsoft Azure is easy to integrate and compatible with Microsoft- or Windows-based technologies and architectures. This helps you avoid high downtime and costs.

Benefit from Low Costs
Through Microsoft Azure, you can outsource all or part of your IT infrastructure to the cloud, customised to your needs. This significantly reduces maintenance, power and hardware costs.

Act in Compliance with Data Protection Regulations
Microsoft Azure is GDPR compliant and meets international standards such as ISO/IEC 27701. Decide for yourself which data you want to store in the cloud and which you do not. You also have the option of hosting your data on-premises, in which case only the data processing takes place in the cloud.

Be Faster Than the Competition
Microsoft Azure offers an agile and ready-to-use infrastructure that will elevate your business to the next level. Develop quickly and flexibly and significantly reduce the time it takes to create new applications.

Work from Anywhere
Connect and coordinate multiple company locations with ease. Thanks to internet-based cloud technology, you cannot be stopped on the move.

Take Your Applications to the Next Level
Microsoft Azure allows you to use a wide variety of options from Windows to Linux operating systems, from SQL databases to SQL servers. Additionally, you can integrate AI such as machine learning algorithms, regressions or pattern recognition into your applications.

Scale Azure to Meet Your Needs
Respond to dynamic resources and workloads in the short and long term. This allows you to align Azure with your needs at any time. Scale applications and resources up or down, even automatically. Stay flexible!

Calculate Your Costs Reliably
MS Azure's pricing is transparent and calculated on a pay-per-use basis. Additionally, Azure offers the option of scaling your add-ons according to your needs and budget.
Azure Services – Unlimited Opportunities for Your Business
Microsoft offers a multitude of different services. This allows you to use Microsoft Azure optimally and adapt it perfectly to your needs with software as a service and more. In total, Microsoft Azure services from 21 categories are available to you, including:
Azure Arc: Administrate and develop apps, infrastructure and other services from anywhere
Azure Stack: Work on different hybrid apps in your preferred development environment – from cloud to remote locations – on one platform
Azure SQL Database: Use intelligent SQL database services and create scalable apps with ease
Azure Cognitive Services: Benefit from artificial intelligence and machine learning algorithms as APIs in the development of human-like apps with the ability to hear, see, speak or understand
Azure Compute: This category combines services that provide you with the necessary infrastructure to run your applications – the scope of features ranges from the creation of application containers to the use of virtual machines (VMs) as Windows or Linux computers
Azure Synapse: Combine data integration, data warehouses and big data analytics in one service and directly edit your data in machine learning and business intelligence apps
Azure IoT Hub: Develop your own IoT applications by making use of a wide array of IoT solutions and controlling the connection between IoT applications and your managed devices
Azure Databricks: Analyse your data to generate valuable insights and develop and scale AI solutions based on the results
Azure Cognitive Search: Transform your data into discoverable content using cognitive capabilities and create relevant search indexes for your applications
Azure Marketplace: Here you can find more development tools from certified third-party vendors
Benefit from Our Various Azure Services!
Azure Managed Cloud Services
From the migration of your workloads to the optimisation of your system landscape – we take care of your Azure infrastructure! Our guided cloud adoption facilitates your entry to the cloud. Additionally, you can use dotSource as your cloud solution provider for existing infrastructure. Learn more about our complete package of hosting, development, business intelligence and more.
Azure Integration Services
Implement your personal integration platform as a service (iPaaS) strategy with the help of Azure Integration Services! Connect multiple applications with each other thanks to iPaaS with efficient API management. Our experts will also help you with the individual configuration of your interface management. Benefit from reliable data exchange between your applications!
Azure DevOps
Get into agile app development and corporate culture with Azure and dotSource! Improve collaborative, cloud native app development through various services in the Azure DevOps collection. Along the way, Azure DevOps promotes communication and transparency within the team and simplifies the management of different development stages.

Power BI – The Must-Have for Your Data-Driven Business
Work with data instead of relying on your gut instinct. With Microsoft Power BI, you can promote business intelligence in your company. Thanks to interactive visualisations, AI-supported analyses and automated reports, Microsoft solutions support users in generating added value from corporate data. This enables you to make future business decisions based on data, regardless of your expertise.
Connect Microsoft Azure and Power BI!
Get the most out of your cloud with business intelligence:
Make informed business decisions
Bring together multiple data sets
Visualise your KPIs etc. in sophisticated dashboards
With our business intelligence consulting services, you always keep an eye on your business goals. When will you start working data-oriented?
More Microsoft Solutions for Your Business
Microsoft Dynamics – Connecting Business and Customer Processes
Integrate Microsoft Dynamics into your online shop with dotSource! The innovative application collection unites enterprise resource planning (ERP) with customer relationship management (CRM). This makes it possible to
efficiently combine business processes and customer management
offer an all-encompassing experience for your customers and employees
begin bringing together your business processes
Work Remotely with Microsoft Teams
The use of Microsoft Teams enables
overarching and digital communication
multiple features such as chats, video calls and Office applications
an efficient way of working together
Benefit from our expertise as a certified Microsoft Partner. We provide support in the implementation of Microsoft Teams and train your employees, clients and partners. Try it out and see for yourself!
Want to learn more? I'm looking forward to hearing from you!