Salesforce Marketing Cloud for a Seamless Brand Experience
Based on the Salesforce CRM platform, the Salesforce Marketing Cloud enables personal interaction with your end users on any channel, on any device. Using Marketing Cloud, you can quickly and easily create tailor-made content for emails, ads, social media, push notifications and text message marketing. Salesforce's AI, Einstein, helps you create customer profiles and identify individual preferences so you can recommend the right product at the right time.
Marketing Cloud Features at a Glance:
Journey Builder: Create personalised customer journeys and network marketing, sales, customer service, and commerce.
Email Studio: Customize personalised emails with easy to use drag-and-drop.
Salesforce Einstein: Identify the content relevant to your audience.
Data Management Platform: Capture and analyse customer data from any source and use it on every channel.
Social Studio: Interact with your customers on social networks.
Advertising Studio: Plan and implement effective advertising campaigns for reactivation and customer acquisition.
Mobile Studio: Communicate with your customers on mobile devices - via text messages, push notifications, and group messages.
Our Salesforce specialists, including Marketing Cloud Consultants, Marketing Cloud Email Specialists, and Marketing Cloud Social Specialists, love to help automate marketing processes. We'll take over:
The creation of a successful digital marketing strategy
All configurations, from basic setup to running the Salesforce Marketing Cloud
The planning and implementation of digital marketing campaigns
The configuration of automated marketing processes
Marketing Cloud training for all employees


B2B Marketing Automation with Salesforce Pardot
Salesforce Pardot is a marketing tool that caters to the specific needs of B2B. With Pardot, you can easily create landing pages and registration forms, as well as send targeted and personalised email campaigns. In addition, this solution helps automate common marketing and sales tasks, such as lead management. Configurable dashboards help you measure the success of your marketing campaigns.
With Salesforce Pardot you can:
Generate and qualify leads
Generate personalised landing pages and e-mail campaigns
Get a 360-degree view of your customers
Expand your sales pipeline faster
Measure the ROI of your marketing activities
Relieve stress from sales and marketing staff
Our Services:
Consultation and system selection
Transparent quotes
Creation and implementation of Salesforce Pardot
Configuration
Training
Planning and implementation of automated marketing campaigns
Support and further development
Demo – Salesforce Pardot Perfectly Interacts with Sales Cloud and B2B Commerce
Learn how Salesforce B2B solutions can help you generate and qualify leads and create cross-channel reporting in this demo.
Create an Individual Customer Success Platform with the Multi-Cloud Experts from dotSource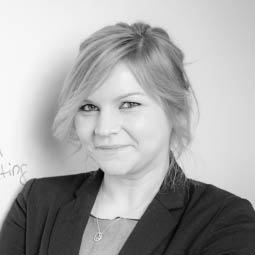 Want to learn more? I'm looking forward to hearing from you!
Jessica Kopyto
Account Executive
Digital Business
Whether B2C or B2B – We'll Create Your Marketing Automation Project!