24
%
of customers would switch to a competitor if the competitor provided the product or service faster.
42
%
more accurate sales forecasts by using a CRM system.
105
%
increase in average order size when using a CPQ software.
Making Sales Teams Successful with Digital Solutions
Everybody is in sales. Whether it is customer acquisition or management of existing customers: sales processes are no longer limited to traditional field service.
In the digital age, customer relationship management is only successful if it is viewed and implemented holistically. In order to identify sales opportunities at an early stage and generate new leads, it is crucial that the processes of your marketing, sales and service departments do not run in isolation from each other, but together.
This requires a platform that all employees have access to and that allows you to
ensure higher data consistency
filter and process data and to-dos in a role-specific manner
minimise coordination efforts between marketing, sales and service
Whether it is Salesforce or SAP: we help you find the system that suits your needs and goals.
Together with you, we develop a sales strategy to optimise your sales processes in line with marketing and service for sophisticated lead management, but also to identify opportunities at an early stage.
Data-Driven Sales: Breaking Down Data Silos, Strengthening Trust in Data
Your Challenge
You are in the process of implementing digital sales systems or are already using them. The data on your customers, their purchases and conditions, however, is stored in different systems and sometimes even has to be maintained twice. There is no place for central data storage and the quality of customer data also leaves much to be desired.
As a result, sales employees have little trust in the data and the associated processes, so they still prefer to rely on their gut feeling.
Our Solution
Together with you, we evaluate how a CRM system can help you get the most out of your (customer) data and develop concrete company-specific use cases.
After a comprehensive analysis of your existing data, we can identify potential gaps, define quality standards for future data maintenance and give you recommendations on how to adhere to these standards in order to achieve maximum success for your company in the long term.
We also support you in establishing a data-driven mindset among your employees.
We Support You in
formulating questions and goals that help your sales team make progress
breaking down data silos and creating an integrated, central solution so that all your departments get a holistic view of your customers
gathering the data you need about customers, leads and workflows
establishing a data-driven mindset in your company
Forecast and Pipeline Management with Innovative Sales Controlling
Your Challenge
You want to optimise your sales controlling with digital solutions. In order to manage your sales team in line with your sales strategy, you want automated processes and clear monitoring that makes the important KPIs of your sales processes transparent to you.
Are you wondering how you can better manage your sales team to achieve business goals and how you can find out what the workload of your sales employees looks like? What options are there to identify dangers and undesirable developments at an early stage?
Our Solution
A CRM system enables you to efficiently manage your sales activities and establish processes by intelligently merging data in it. When used in a targeted manner, this allows your company to
obtain a holistic view of sales processes as well as business goals and respond in a timely manner if problems arise
take a look into the future with targeted forecast and pipeline management and start working on new sales strategies and goals
improve the evaluation of sales opportunities and the assignment of employees responsible for them
allocate potential assignments effectively and based on the capacities and workload of your team
We Support You in
analysing your sales processes and identifying gaps based on your requirements
selecting a system that can be tailored to your sales strategy
connecting your ERP solution as well as third-party systems and transferring data from them to your CRM system
setting up automation capabilities to comply with operational processes
creating dashboards with all the KPIs relevant to your company
training your employees to quickly establish new workflows
Intelligent Technologies for Your Sales Department: AI, IoT and Voice Control
Your Challenge
The digitalisation of your sales processes is already well advanced and is accepted and embraced by all employees.
In the future, you want to make daily business even easier for your sales staff by using intelligent systems such as artificial intelligence and smart voice control, but you do not know where to start.
Our Solution
Together with you, we take a close look at your existing sales structures and find out where it might make sense to use intelligent systems. Here are some examples:
AI-based forecasting and automated lead scoring
Intelligent voice systems to retrieve customer data and check meetings – even during car rides
Analysis of usage data collected via IoT interfaces to draw conclusions about customer and usage profiles
We Support You in
developing use cases for the best possible use of smart technologies in your company
finding the right technical solution for these use cases
implementing the desired solution
Change Management – Technology Is Only Half the Battle
Your Challenge
You are already using digital sales solutions or want to implement a new CRM solution. However, the acceptance within your team is still low. To ensure that change processes do not lead to resistance among your employees, it is important to raise their awareness of these processes and actively involve them.
Change management is often given low priority, but it should not be underestimated. After all, a new solution can only realise its full potential if employees are willing to use it.
Our Solution
We have more than 15 years of experience in digitalisation projects and the changes they bring.
With modern project management, agile methods and communicative means, we help you break down your employees' prejudices regarding CRM systems, take away their fears and thus establish change processes in your company in the long term.
We Support You in
involving your employees in change processes from the very beginning
communicating change processes within the company
conducting employee surveys to identify pain points and derive solutions from them
We Rely on the Following Solution Providers for Sales Management
A Selection of Our References in the Field of Sales Management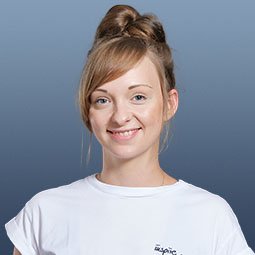 Do you want to learn more? I'm looking forward to hearing from you!
Sabrina Pfeifer
Digital Business