Topic Overview: What you Need to Know to Select a Suitable CRM System
Customer loyalty as a competitive advantage
6 reasons for a solid customer relationship
CRM - Do not reduce to a technological level alone
CRM in the enterprise - The harmony of processes
What does a CRM system do?
CRM use cases for B2B and B2C
Requirements for the introduction of a suitable CRM system
How do I find the right CRM software for my company?
Possible problems with the introduction of a CRM system
Criteria for decision making: system provider under the magnifying glass
CRM system providers in comparison
Generate Real Added Value With Efficient Customer Relationship Management!
At a time when the availability of products and services has become a matter of course across countless providers through digital channels, customer loyalty is increasingly becoming a privilege for both retailers and manufacturers. A strong relationship with the customer is the key to long-term business success.
So how does customer loyalty succeed? Targeted customer orientation based on the principle of personalisation instead of watering can systematically cultivate customer relationships. However, the documentation, administration and profitable processing of the required data requires the support of suitable CRM software. But with the introduction of such a solution, various questions arise at the same time.
In addition to the question "What is CRM and how can my company benefit from it in the long term?", this white paper also addresses the requirements for the evaluation and introduction of suitable software and provides a detailed overview of the software solutions offered on the market.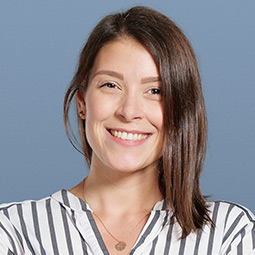 Do you want to learn more? I'm looking forward to hearing from you!
Nadine Kannengießer
Digital Business