InsightCommodity is a marketplace operated by European Energy Exchange AG (EEX), which is headquartered in Leipzig. EEX develops, operates and connects secure, liquid and transparent markets for energy and commodity products and is part of Deutsche Börse Group.
The »InsightCommodity« platform, in turn, is an EEX service launched in 2020. This service gives users the opportunity to obtain a comprehensive overview of the energy and commodity markets of EEX Group by means of analytical solutions, processed raw data and the latest market news.


| | |
| --- | --- |
| CLIENT | InsightCommodity (European Energy Exchange AG, Leipzig) |
| INDUSTRY | Energy |
| PROJECT | |
| PROJECT PERIOD | June 2019 – January 2020 |
| TECHNOLOGY | Magento Open Source, UXPin |
Perfect Brand Launch with a High-Performance E-Commerce System and a Modern Brand Experience Design
Initial Situation & Objectives
InsightCommodity sees itself as an online marketplace for analytical solutions, processed raw data and the latest market news. The company also provides consulting services.
In order to make these services accessible to customers, InsightCommodity wanted advice on the selection of an e-commerce system.
The next step was to implement the e-commerce software according to the client's requirements. In addition, a corporate design was to be created for the new company in order to enable an appealing brand presence on all channels using a modern brand experience design.
Project Scope & Implementation
With its digital platform, InsightCommodity is a pioneer in its industry. This way, information relevant to the energy exchange is made available in one central place.
Following the recommendations made by the dotSource Consultants, EEX decided to use Magento Open Source as its e-commerce software. After the requirements elicitation, configuration, implementation and testing, the platform went live on schedule a few weeks after the project had started.
Besides an e-commerce development team, the user experience design team also worked for InsightCommodity and created an appealing brand design for the company's brand presence. From the logo to the screen design of the website: the appealing design convinced InsightCommodity right away.
Success & Added Value
By establishing a platform for information services relating to commodity trading, InsightCommodity is driving innovation forward. dotSource successfully supports the company in doing so.
A high-performance, individually configured and at the same time cost-sensitive e-commerce software solution was implemented. Furthermore, a user-friendly brand experience design with fresh colours and a striking visual language was created.
InsightCommodity got off to an ideal start as a new brand and the cooperation will continue.
InsightCommodity is live and the result is truly impressive. The project has now entered the operational phase and we are looking forward to further successful cooperation!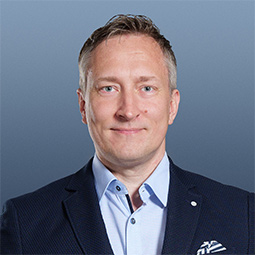 Want to learn more? I'm looking forward to hearing from you!
Marcus Wagner
Account Executive
Digital Business