Our Data Engineers Make Sure That Your Data Is Made Available for BI and AI Applications
Your Challenge
You use multiple systems for your business processes (e.g. ERP, CRM, PIM or social media tools) and already have a concrete idea of what you want to achieve with the corporate data they contain. However, your data is inconsistent and still scattered across different systems, which stands in the way of a comprehensive analysis and gaining new insights.
Or: you already have a central data warehouse but want to expand it and add further data sources.
Our Solution
Our data engineers bring together your data from the different systems in a data warehouse. Your data is processed, consolidated as well as standardised and thus made analysable.
Your existing data warehouse can be expanded to include new data sources by connecting interfaces.
We Offer
Help in selecting the right system
Setup and management of data warehouses
Carrying out ETL processes
Interface programming
Ensuring data quality
Central Data Management Is the Basic Prerequisite for a Successful Analysis
In order to gain comprehensive, decision-relevant information from BI software or AI solutions, company-wide and consistent data management is required. On the one hand, this data can be obtained from internal sources, e.g. the CRM, ERP or PIM system. On the other hand, external data, such as knowledge databases or statistics from social media, as well as data from third-party providers, e.g. share price databases or weather data, can also be used for analysis.
This data is stored separately in a cache. This is where the transformation of data takes place to ensure the highest possible homogeneity and quality.
ETL stands for »Extract, Transform, Load« and describes the process of providing data. Data is extracted from external heterogeneous systems, transformed into a predefined structure and loaded into a central database – the data warehouse.
Other Services in the Field of Artificial Intelligence & Business Intelligence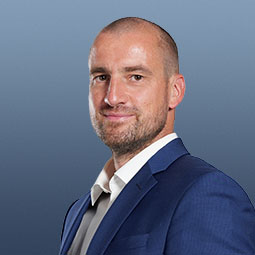 Want to learn more? I'm looking forward to hearing from you!
Steffen Schneider
Account Executive
Digital Business