Representing her entire online team, Katharina Gillesberger, Head of Digital Marketing at BayWa, has received the
»E-Retailer des Jahres« (»E-Retailer of the Year«) award for the conglomerate's omnichannel strategy. The long-established company began digitising its processes more than ten years ago. Since 2016, the digital agency dotSource has been on board to provide support in e-commerce, multi-channel marketing and e-procurement.

Especially over the last year, it has become clear that digital sales and communication channels have become indispensable – even in traditional industries such as construction and agriculture. All the better, then, that BayWa AG began digitising its business model early on. As a result, the agricultural and building materials trader is still a pioneer in its industry and has now received the prestigious »E-Retailer des Jahres« award for this role.
Complex Shop Landscape and Multi-Channel Marketing
Together with the digital agency dotSource, BayWa added an e-commerce platform for B2B and B2C customers to its analogue sales channels in 2016. For the long-established company, which is otherwise organised in regional branches, dotSource developed a multi-layered online shop that makes BayWa's agricultural and technical product ranges as well as selected services available digitally. Especially during the pandemic, even more B2B customers have come to appreciate this additional way of making purchases, as BayWa's Katharina Gillesberger, E-Retailer of the Year 2021, reports.
Award-Winning Omnichannel Strategy Thanks to the Close Linking of Analogue and Digital
Gillesberger and her team prevailed against 41 e-retail experts, including Amazon, Douglas and Bergzeit, and impressed with their omnichannel strategy, which allowed them to act as »a reliable partner for farmers, even in difficult times«. The jury acknowledged the contribution BayWa made to the food supply chain during the COVID-19 pandemic. This was only possible for the conglomerate thanks to the professional integration of various channels: »The goal of our omnichannel strategy is to optimally interlink our digital and analogue sales channels and services. This way, we can support our customers where they need us most!« Katharina Gillesberger, winner of the award, describes the company's approach.
The customised e-commerce landscape set up by dotSource as well as the marketing automation system, which was also implemented by the digital agency, form the basis for BayWa's digital transformation: »BayWa AG understood very early on that e-commerce is a must-have for sustainable business in B2B. We are very pleased to have accompanied them for five years and congratulate them on this well-deserved award!« Christian Otto Grötsch, founder and managing director of dotSource, aptly sums it up.
About the »E-Retailer des Jahres« (»E-Retailer of the Year«) Award
Every year, the »E-Retailer des Jahres« award is presented by the media of the HighText publishing house in cooperation with the e-commerce association bevh and given to outstanding representatives of e-retail. The jury consisting of e-commerce experts compiles a shortlist from the proposed German-speaking online shop operators, mail order specialists and e-retailers. In an online poll, all those registered on the iBusiness, ONEtoONE and Versandhausberater platforms can then vote for their favourite. In 2021, BayWa's Katharina Gillesberger came out on top with the conglomerate's omnichannel strategy.
About BayWa AG
BayWa AG is an internationally operating group with the core segments Energy, Agriculture and Building Materials as well as the Innovation & Digitalisation development segment. Founded in 1923, the long-established company with cooperative roots and headquarters in Munich has around 21,000 employees and generated a turnover of 17.2 billion euros in 2020.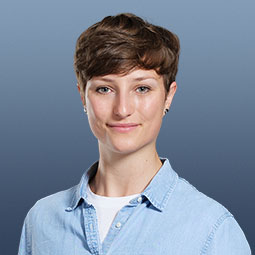 Want to learn more? I'm looking forward to hearing from you!
Lisa Hager
PR