CMS: Customers Expect Valuable Content
Today, it is no longer enough to simply present products and sell them. Instead, customers expect interesting, high-quality content.
Modern content management systems (CMS) help to ensure excellent brand experiences. As a renowned digital agency, we rely on cooperation with world-class CMS providers. As a partner of Salesforce, TYPO3, Crownpeak, Magnolia, Bloomreach, Frontastic and Contentful, we find exactly the software that suits your company and your goals. Our certified developers and consultants advise and support you right from the start – our numerous references speak for themselves.
Modern content marketing gives you crucial advantages:
Increased brand visibility through up-to-date web content
Positive brand image through unique content
Automated content distribution across different media formats
Personalised customer approach across all channels
Digital experiences through content commerce
Intuitive operation, even without programming knowledge
Is Your Website Ready for the Google Page Experience Update 2021?
We analyse your website, outline optimisation measures and create individual performance dashboards for continuous monitoring.
Our Services as a CMS Agency – From Strategy to Implementation
Content Management Strategy
In order to find the system that convinces in every aspect and fits in perfectly with your online shop and your system landscape, requirements have to be evaluated first.
In discovery workshops, our dotSource experts work with you to analyse existing structures and ongoing processes in your company. This way, specific use cases for the successful use of the new CMS are developed.
Together we answer the following questions:
Which CMS interacts seamlessly with your shop software?
What should the CMS be able to do in terms of internationalisation capability and personalisation?
Which SEO and social media connection features should be integrated?
How comprehensive should the rights and role management, the workflow and the editing be?
Selection of a Suitable CMS System
For the CMS selection, we then define and prioritise evaluation criteria together with you. These criteria can be classified into the following categories: functionality, technology, costs, client and project scope as well as individual requirements. Afterwards, every system that is suitable for your company is evaluated for each criterion. A score value ultimately determines whether a CMS is suitable and a shortlist is created.
Together with you, we find out
which solution suits your business model
what features you need
which interfaces to existing systems are necessary
to what extent the software meets your requirements in terms of design, security, scalability, modular expandability and usability
what development potential the software has in order to be able to map the potential growth of your company
Content Management Systems in Comparison
Our white paper compares leading CMS systems and provides tips for the selection process.
CMS Implementation and Integration
In combination with corresponding recommendations for action, we can optimally respond to your requirements and problems. Thanks to our holistic approach, we can support you beyond the system selection when it comes to the implementation and daily use of the system.
We take over
the customisation and individual configuration of your CMS
the implementation of a modern user experience design
the connection to third-party systems, for example e-commerce or CRM systems
Focus on CMS Trends: Content Commerce and Headless CMS
Content Commerce: Merging CMS and Shop System
Content commerce ensures that you reach customers with convincing content throughout the entire customer journey. Content and shopping scenarios merge with each other, thus offering customers the opportunity to make a purchase at any time. In order to implement all this technically, however, the CMS and e-commerce system have to work together.
Headless CMS: Headless into the Future?
The requirements for a CMS have changed: today, the website is only one of many channels that are used to distribute content. There are also apps, social media channels, etc.
A headless CMS decouples front end and back end, thus ensuring that content only has to be edited once before it is distributed to different channels.
We Rely on the Following Solution Providers in the Field of CMS
A Selection of Our References in the Field of CMS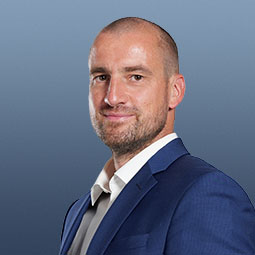 Do you want to learn more? I'm looking forward to hearing from you!
Steffen Schneider
Digital Business