Topics from the Handelskraft Trend Book »Digital DNA«
All quiet on the digital front?: Top-5 commerce trends revisited, digital transformation: Level 2, Three steps from trend to innovation
Artificial Intelligence: Finally! You won't have to think for yourself, From mobile-first to AI-first, AI as a competitive advantage, Data thinking, My Data. My Experience.
New work order: Working agile: Not faster or cheaper – but better!, Make the office chill, The new toolkit
Without technology, without a solution: Agile solutions, Headless commerce, Progressive web apps, IT in the cloud
Future retail: New ways to meet margins, Niche as a model for success, M2P – Expertise as goods, Is wholesale becoming retail?
Brands in the digital age: Co-operation, Digital lifestyle: (Not) A question of the age, Conservation, The State as a digital brand
Digital business facts and figures: Internet Usage, Consumer Behaviors, Marketplaces, E-Commerce Sales, Payment Methods, Technologies, International E-Commerce, Artificial Intelligence, New Work
These Trends are ruling Digital Business in 2019
Digital Business is People Business.
Stationary retail isn't dead. Artificial intelligence hasn't eliminated all our jobs. Corresponding prophecies were and remain castles in the sky. Or not? What if the dogged focus on change limits your view too much? If you look too long at ratios that can no longer be measured against reality, you'll be blind to necessary adjustments. The world in which companies operate is dominated by digital trends.
This world is being shaped more and more by digital natives. They can't even pretend to think the Internet is new territory. They have high expectations for convenient and sustainable consumption and also make new demands about their work environment. Increasing influence on the economy and the labour market from generations Y and Z, those who grew up in the midst of digital progress, who literally inhaled it, is unstoppable.
The reaction to these developments don't have to be a new conflict line. Old or young. Analogue or digital. It's time to put an end to outdated categories. Generational changes are inevitable. Now is the time to bring together the best of seemingly different worlds to shape the digital future together. Handelskraft 2019 will show you what the near future will look like!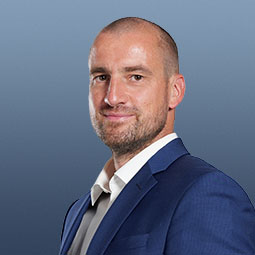 Do you want to learn more? I'm looking forward to hearing from you!
Steffen Schneider
Digital Business