Remote Business: Online Is the New Offline
Doing everything digitally has become the absolute norm. Even though the months of crisis in spring 2020 – Corona is the keyword here – changed many things, they only accelerated the development in some industries: flexible working time models, working from home, video conferencing, chat communication.
Nevertheless, many employers and employees are asking themselves more than ever how the digitalisation of the working world can succeed and how to not only overcome a crisis in the short term, but remain competitive in the long term.
The white paper at hand addresses this issue. It shows how companies can find groundbreaking solutions in the fields of communication, collaboration, event management and training – realistically thanks to best practice insights and concrete tips as well as detailed portraits of the most important providers of relevant software solutions and apps. The white paper also provides advice on change management and mentality. After all, if digital collaboration is to succeed, the mindset of everyone involved is as least as important as the technical capabilities of tools.
Remote Business: Topic Overview
Digital Collaboration

Remote Work and New Work
5 Tips for Remote Work
Best Practices for Remote Work

Remote Workshops
Remote Warm-Ups
Remote Decision-Making
Digital Events

Digital Event Management and Hosting
Best Practices for Online Events

Online Client Conference: #HK20STR
Virtual Trade Fair: DiMarEx 2019
Digital Annual General Meeting: Bayer AG 2020
Online Is the New Offline

An Overview of the Advantages of Online Events
10 Tips for a Successful Online Event
Digital Education

E-Learning: Goodbye Passive Learning, Hello Interactive Learning
Best Practices for E-Learning

Digital Business School – Learning to Shape Transformation
Code Camp – Digital Private Lessons in Coding
An Overview of Providers and Tools

Zoom
WebEx
GoTo
Adobe Connect
Skype
Microsoft Teams
expo-IP
RED Medical
Microsoft Whiteboard
Miro
Mural
Jitsi
8x8
Slack
Signal
Threema
Telegram

Conclusion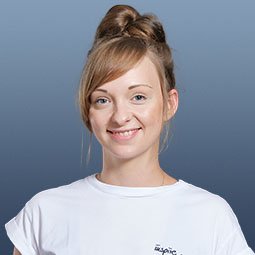 Do you want to learn more? I'm looking forward to hearing from you!
Sabrina Pfeifer
Digital Business