Within just one year, the digital agency dotSource has been able to record more than 100 new hires, exceeding the symbolic threshold of 500 employees at its five offices. Besides successful recruitment, such rapid growth requires strong partners, which dotSource finds in the regional educational landscape, and innovative strategies for new office space.
Similar to 2021, dotSource has reached another milestone in October 2022: within just one year, the digital agency with headquarters in Jena has hired 100 new employees and now has a team of over 500 people at its five offices in Jena, Leipzig, Dresden, Stuttgart and Berlin.
Leipzig and Dresden in particular have experienced strong growth, with 79 and 34 new employees respectively. With a workforce of 353 people, the founding location in Jena is and remains the digital company's largest office: »Here in Jena, we are now the biggest employer in the IT industry,« Christian Otto Grötsch, founder and managing director of dotSource, remarks. »We are very proud of this development, but the competition for skilled workers is and remains fierce.«
Training and Development as Tools Against the Shortage of Skilled Labour
For this reason, dotSource is strongly committed to training young people in the digital industry. In addition to the two e-commerce degree programmes at Ernst-Abbe-Hochschule Jena (University of Applied Sciences Jena), which the digital agency has supported for nine years, Grötsch has recently initiated the endowment of a new professorship at Friedrich Schiller University Jena together with nine other digital companies from Jena. This way, young people in Eastern Thuringia will be able to pursue a wide variety of educational paths on their way to the digital industry. Furthermore, dotSource trains e-commerce merchants together with the Karl-Volkmar-Stoy vocational school centre.
»In addition to trainees and students, we are increasingly looking to career changers from other professions, helping them to get started in digital business with clearly defined curricula,« Grötsch elaborates on dotSource's HR strategy. After all, the skilled labour needs of such a rapidly growing company cannot be met with young talent alone. Graduates from humanities and natural sciences programmes, for example, are the missing puzzle pieces needed to complete the dotSource family.

Roofs over the Heads of the Entire dotSource Family
In order to be able to accommodate the »dotSource family« frequently mentioned by Grötsch, the company has broken new ground in recent years and has acquired real estate for new office space in both Dresden and Jena. While the modern building on Bergstraße in Dresden is already in use and is gradually being renovated, demolition work on the site of the future dotSource Campus on Saalbahnhofstraße in Jena will begin next year. The completion of this new building is planned for 2026 and will then provide space to achieve further growth targets: by 2025, dotSource would like to have grown to 1,000 employees.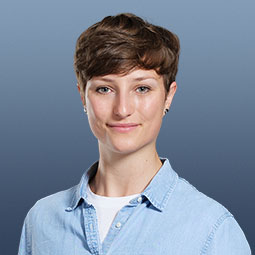 Want to learn more? I'm looking forward to hearing from you!
Lisa Hager
PR