The globally operating technology group FUJIFILM produces innovative medical technology, life sciences and storage media products. However, the Japanese company is best known for its premium product range in the field of photographic and imaging technology. FUJIFILM Europe GmbH, headquartered in Düsseldorf, comprises the digital camera business of the global group, which is responsible for sales, marketing and service of digital cameras and accessories throughout Europe.



E-Commerce Meets Customer Service
With its own customer portal, FUJIFILM wanted to address its D2C target audience directly. Following the best-of-breed approach, the shop system Adobe Commerce Cloud is connected with various Salesforce tools for customer service management. This combines the strengths of major system providers while also enabling flexible scaling and expansion of services for the international market.

D2C Platform for All of Europe
As a uniform e-commerce solution for 15 European countries, the cloud-based tool from Adobe ensures exceptionally good resource utilisation and a high level of reliability for FUJIFILM. The powerful shop system is not only capable of mapping a wide range of services, currencies and languages, but also makes it possible to strengthen customer loyalty through excellent performance and product presentation.

Seamless Customer Journey
Among other things, FUJIFILM customers can now register their purchased products for repair services and book photography courses at FUJIFILMSchool. In the future, the connection to the CRM solution from Salesforce will provide an effective link between customer-related data and the associated services. The single point of contact along the customer journey is the front end of the new Adobe Commerce platform, which can also be used to place subservices, discount campaigns and promotions.
We were faced with the challenge of creating a platform that encompasses e-commerce, service and marketing. dotSource supported us throughout the entire project and continues to do so, developing a professional solution together with us so that we can achieve all of our goals. In the process, we got to know dotSource as a flexible and reliable partner who impressed us with their experience and expertise. Even communication in English was not a problem at any time.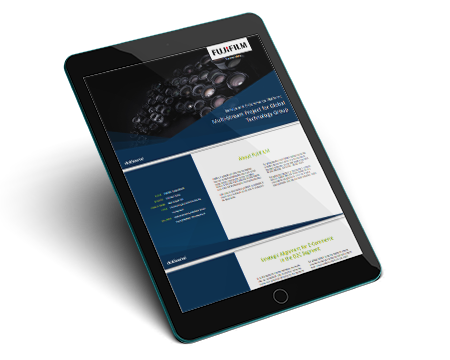 Other Projects We Have Already Implemented for FUJIFILM
Want to learn more? I'm looking forward to hearing from you!