Jena/New York – As of today, the digital agency dotSource is an official member of the MACH Alliance. As part of this network consisting of renowned digital players with a best-of-breed focus, dotSource can now also provide certified proof of its long-standing MACH expertise as a System Integrator.

The world of digital transformation is changing at an ever-faster pace; flexibility and scalability are absolutely essential across the entire digital landscape. MACH architectures are among the best solutions to achieve this. What this means is that microservices (M) are connected via application programming interfaces (A) in a cloud-based environment (C) without a predefined front end, also known as headless (H). On the one hand, this offers the advantage of being able to select the software components that best meet the specific requirements of an online shop (best-of-breed approach). On the other hand, microservices can be replaced and expanded more easily, making it possible to respond more quickly to market changes.
The MACH Alliance, co-founded in 2020 by dotSource's long-standing partner commercetools, is an international non-profit organisation headquartered in New York. It brings together key players from the tech industry that advocate for the use of MACH technologies in digital transformation. The goal of the MACH Alliance is to support companies on their way to a flexible, interface-based digital infrastructure. This involves offering training courses led by experts and organising networking events. Other dotSource partners such as Akeneo, Bloomreach and Contentful are also members. For the digital agency, joining the MACH Alliance was therefore only a matter of time.
MACH Alliance Membership – Many Years of Expertise and Project Experience Required
To become a member of the MACH Alliance, companies have to take part in an elaborate application process, which requires them not only to demonstrate their expertise in microservices, API-first development as well as cloud-native and headless technologies, but also to showcase successful client projects covering these disciplines. No problem for dotSource!
Since 2017, for example, the digital agency has been supporting the ventilation system manufacturer TROX on its digital journey. As is so often the case with the implementation of MACH architectures, their advantages have become increasingly apparent over time at TROX: various features such as product and process configurators have been successfully added, replaced and expanded over the last few years, all while keeping maintenance and downtimes to a minimum. Moreover, hagebau, a major player in the building materials industry, worked with dotSource to make the transition from a monolith to an innovative content delivery network. This solution is available to all partners, enabling them to provide users with compelling content commerce experiences.
Even More Exchange and Expertise as Well as Additional MACH Projects
For dotSource, joining the MACH Alliance is by no means the first step towards a best-of-breed approach. Nevertheless, the digital agency expects its membership as a System Integrator to provide valuable inspiration and stimulate fruitful exchange on microservices architectures and headless solutions. For (potential) clients, too, the MACH Alliance membership is another hallmark of quality underlining the digital agency's extensive expertise. Together with its partners commercetools, Akeneo, Contentful and Bloomreach, dotSource intends to carry out numerous other exciting projects in the coming months and years and take the implementation of digital experience platforms using MACH architectures to an even higher level.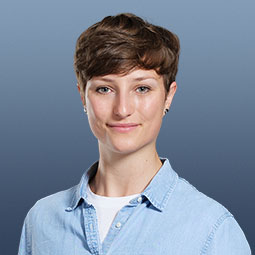 Want to learn more? I'm looking forward to hearing from you!
Lisa Hager
PR