Together with its implementation partner dotSource, the fair fashion pioneer hessnatur has won gold at the German Brand Award 2022 in the »Excellence in Brand Strategy and Creation – Brand Communication – Online Shop« category.
The excellent migration of its e-commerce system helped hessnatur achieve sales growth of 45 per cent in this segment
in 2021. More in-depth insights into the award-winning project will be presented by dotSource and hessnatur at the
K5 Conference 2022.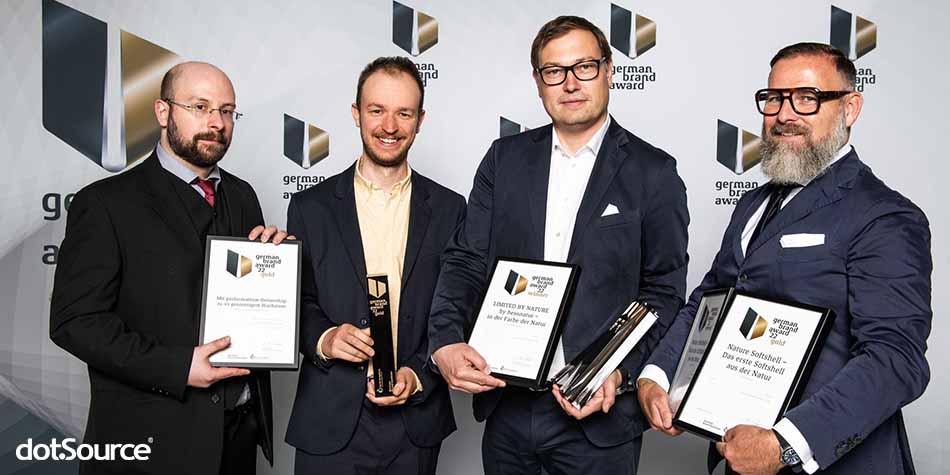 The market for green products and sustainable fashion is booming. However, hessnatur's success story began long before this trend: the company was founded by Dorothea and Heinz Hess in 1976 and is a pioneer for sustainable, natural materials and fair manufacturing processes in Germany.
In addition to high-quality products, a successful company these days needs diverse and, above all, digital sales channels. hessnatur has been meeting this need for a long time, but since 2020 it has been offering its customers an even better shopping experience on its online portal. The migration from the outdated SAP Hybris 5.7 to SAP Commerce Cloud with its implementation partner dotSource also went hand in hand with performance and customer journey improvements.
Significant Increase in Sales Thanks to Multi-Channel Strategy
The upgraded online shop complements the existing sales channels of the German fashion company. Besides the mail order catalogue business, hessnatur operates five stores in its home town of Butzbach as well as in the city centres of Düsseldorf, Frankfurt, Hamburg and Munich. In the last financial year, this multi-channel strategy helped the company boost its sales to
110 million euros. In addition, hessnatur acquired 45 per cent more new customers and increased its e-commerce sales revenue by the same amount.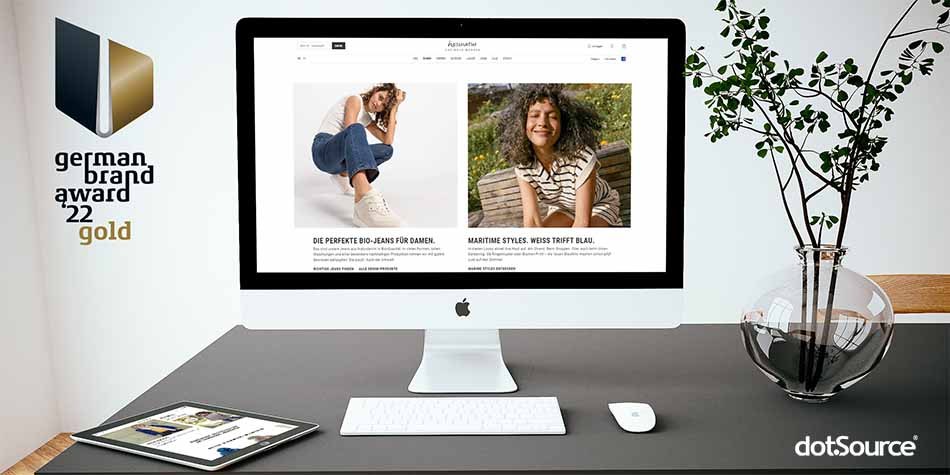 The success of this collaboration between dotSource and hessnatur has now also been acknowledged by the jury of the renowned German Brand Award, presenting the hessnatur online shop with gold for brand communication in the »Excellence in Brand Strategy and Creation« category. Every year, the German Design Council presents this award to companies whose brands are leading the way.
The jury explained its decision as follows: »With the successful migration of its previous and somewhat outdated e-commerce system, the fair fashion pioneer and market leader hessnatur has created a state-of-the-art online shop and is now well prepared for the future of e-commerce. The online shop has a pleasant design, is clearly structured as well as user-friendly and is optimally displayed on all devices. An extremely impressive achievement, both from a formal and technical perspective, which has been well received by customers and exceeded all sales expectations.«
»We are very pleased to receive this prestigious award. It reaffirms our commitment and encourages us to continue offering our customers the best possible customer journey in the future. The next big project for the further development of our platform with dotSource is already in the pipeline,« Kathrin Schneider, Director E-Commerce at hessnatur, remarks.
Customised Online Shop of the Highest Quality
By optimising the performance of the new shop system, it is possible to manage higher traffic and avoid long waiting times. Furthermore, hessnatur.de was expanded to include a powerful English-language online shop, which makes the range of products available to an international target audience.
»We have been supporting hessnatur on its way to becoming a future-proof digital business for a long time. That is why we are particularly delighted that the online shop has won an award following the successful migration of the e-commerce system, which enables sustainable growth in the fashion industry,« Christian Otto Grötsch, founder and managing director of dotSource, comments on the joint success at the German Brand Award.
With this formula for success, hessnatur and its implementation partner dotSource will also take to the stage at Germany's largest e-commerce conference K5 and talk about their journey to becoming a digital champion. On the 30th of June 2022 at
11 a.m., Kathrin Schneider, Director E-Commerce at hessnatur, and Christian Onnasch, Account Executive at dotSource, will present the challenges on the way to becoming an award-winning fair fashion online shop on the Expo Stage in Hall 2.
About the German Brand Award
The German Brand Award is a competition organised by the German Brand Institute, which was founded by the German Design Council and the consulting firm GMK Markenberatung in order to strengthen brand management as a critical success factor for companies competing in both the domestic and international markets. The award is intended to function as a catalyst in the German brand sector, bringing together the most important brand manufacturers and sparking dialogue.
About hessnatur
As a fair fashion pioneer, it has been hessnatur's mission for more than 45 years to create a balance between fashion, the environment and people. hessnatur has ventured into a new era of the fashion industry, developing ever better processes for the ecological production of clothing and inspiring the entire fashion industry by doing so. Since 1976, the company has combined everything that makes fashion fashion – fair manufacturing processes, sustainable and natural materials as well as a modern and timeless look. For more sustainability, for more style, for a better tomorrow.
Want to learn more? I'm looking forward to hearing from you!