BayWa AG is the largest agricultural trader in Germany. Founded in 1923, the tradition-steeped company with cooperative roots and headquarters in Munich also offers various services and products in its core energy and construction industries. The group operates globally, has around 19,200 employees and generated a turnover of 17.1 billion euros in 2019.
BayWa is also one of the pioneers in its industries when it comes to digitisation strategy. For example, BayWa AG operates several online platforms which comprehensively map the product ranges for farmers, customers from the building materials trade and the energy industry as well as their private and business customer processes.

The Own Employees Have High User Expectations as Well
As a result of digital change, customer experience is becoming increasingly important. The same applies to internal procurement, where employees are the customers. Be it pencils or hole punchers, new work shoes or a new PC – the channels through which BayWa employees had to order these things in the past were electronic, yet anything but user-friendly.
However, the digital transformation of a company affects all areas – both externally and internally. BayWa AG therefore approached its long-standing digitisation partner dotSource with the request to develop a central e-procurement platform and thus optimise the internal procurement processes. This resulted in BayWa BIOS – the BayWa Internal Order System. We present the project in detail below.
| | |
| --- | --- |
| CLIENT | BayWa AG |
| PROJECT | Concept Creation & Implementation of a Central Internal E-Procurement Platform |
| PROJECT PERIOD | August 2018 – May 2019 |
| TECHNOLOGY | SAP Commerce Suite |


From Six Different Systems to One Central Procurement Platform
At the time of the requirements elicitation, BayWa employees had to use up to six different systems to cover their needs for working materials. Each system mapped a different product range and various business units of BayWa were responsible for managing them.
To put it briefly, the situation was quite complicated – especially considering that each of these systems had a different structure in terms of usability, logins, cost centre accounting, etc. This meant that lots of separate data had to be managed. Combining these resource-consuming solutions to create a central platform was a major challenge.
On the one hand, employees were to be able to identify themselves on the new platform via the group-wide single sign-on. On the other hand, it was important to delegate approval rights, for example to team leaders, who can approve the replenishment of pens and sticky notes just as digitally and with just as little bureaucratic efforts as the purchase of expensive new IT hardware.
In order to develop a platform based on SAP Commerce that sets international standards in the field of e-procurement, dotSource took the following approach to the BIOS project: in joint workshops for the requirements elicitation, the common goal was defined, measures were derived and prioritised.
Afterwards, the tasks were split into sprints and implemented using agile methods.  An important milestone during the implementation was a joint hackathon at the dotSource headquarters in Jena. Isolating yourself from daily business for a set period of time and focusing entirely on development is an effective way to drive digital projects forward.
At this three-day event, the system was thoroughly tested and the need for further optimisation was identified before BayWa BIOS was finally launched across the company in summer 2019.
The success of BayWa's internal e-procurement platform BayWa BIOS has exceeded all expectations. Employees use the new system very frequently.  Thanks to the holistic approach and joint experimentation, for example during the hackathon, BayWa felt ideally supported at all times, as Michaela Dax, BayWa's project manager for the BIOS platform, emphasises.  In summary, the new platform offers the following added values:
The internal procurement processes were standardised
The entire range of products and services is mapped digitally at a central point, making processes significantly easier for employees
Reorders can be automated
Dashboards provide an ideal overview
Mobile optimisation makes it possible to place orders via smartphone or tablet from anywhere at any time
Single sign-on as well as automated rights and role management simplify approval processes
BayWa employees save time in procurement, the group saves money through process optimisation
The system was designed in such a way that not only BayWa AG, but also its majority shareholdings benefit
These can be integrated into the system via the existing interfaces so that they can handle their e-procurement via the platform as well
Thanks to the adaptability and expandability of the e-procurement shop BIOS, BayWa AG is even better positioned in terms of internationalisation. The BIOS shop is not only to be available for internal procurement throughout Germany, but will soon be used across the group and thus internationally.
Other Projects We Have Already Implemented for BayWa AG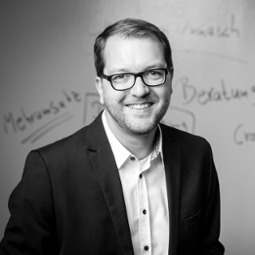 Want to learn more? I'm looking forward to hearing from you!
Christian Onnasch
Account Executive
Digital Business