About Duden textbook publishers
Duden develop textbooks, teaching materials and learning environments for numerous subjects from primary to high school. Duden textbook publishers have belonged to the Cornelsen textbook publishing house since 2011.
Cornelsen manages leading publishers for education media in Germany, Austria, Switzerland, as well as the Czech Republic and is part of the Franz Cornelsen education group.


Project aims and implementation
dotSource's task was to integrate Duden textbook publishers into Cornelsen's e-commerce platform. dotSource GmbH has been working with the Franz Cornelsen Education Group since 2011. With the implementation of the online shop cornelsen.de on the basis of the modular and technically extendable Magento Enterprise Platform, dotSource could create the requirements for the connection to further online shops.
dotSource´s services
Individual adjustment of marketing actions, newsletter, subscriptions, as well as product exports and imports on the basis of Magento's multi-shop functionalities
Migration to the Magento Enterprise version 1.13.1.0
Optimisation of checkout and registration usability
Analysis of Magento's standard reports
Recommendations for action for the effective use of these reports
Extension of reports according to substantial and digital product groups, for both the orders and the shopping cart
Value added for Cornelsen
The multi-client capable platform implemented by dotSource GmbH, made it possible for the Franz Cornelsen Education group to easily integrate further websites.
Through the step-by-step incorporation of individual publishers, the education group's system landscape could be extensively streamlined.
Operation and maintenance effort could also be significantly reduced for Cornelsen, as the incorporated online shops are characterised by the same processes and interfaces.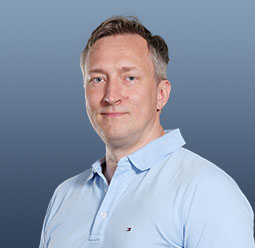 Want to learn more? I'm looking forward to hearing from you!
Marcus Wagner
Account Executive
Digital Business