The Franz Cornelsen Education Group, based in Berlin, is among the leading publishing concerns in the German-speaking world. Cornelsen already operates an extensive online platform on which the publisher provides information and teaching materials.


Project tasks, objectives and implementation
dotSource carried out the relaunch of Cornelsen's previous platform. The objective of this was a new publishing system, which would speed up and simplify operating, ordering and buying processes. In accordance with this, dotSource implemented a modular and expandable e-commerce platform based on Magento Open Source. As a standardised shop solution, Magento, which has been part of Adobe since 2018, unifies the complex system landscape and in part replaces outdated technologies.
This means the developers at dotSource have not only created the technical prerequisites for later linking with further online shops of other publishers in the Cornelsen group: the harmonisation of the various systems and the multi-store functionality of Magento also considerably reduces the maintenance required on the platform.
dotSource created a unique characteristic for the online platform of the Cornelsen group with the implementation of extensive registration facilities for teachers, lecturers, schools and private customers as well as with the integration of a personal area for administering subscriptions and orders.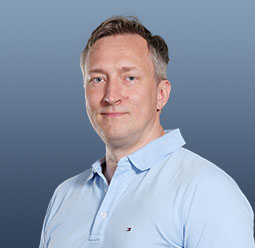 Want to learn more? I'm looking forward to hearing from you!
Marcus Wagner
Account Executive
Digital Business