Using Salesforce Commerce for a Seamless Customer Experience
With Salesforce's commerce solutions, you can provide your customers with innovative, personalised shopping experiences across all channels - whether on mobile devices, social media, or offline at a store location.
The native integration capabilities of the other Salesforce solutions for Marketing Automation and CRM give you a complete view of any interactions your customer has with your brand.
Thanks to cloud technology, the features and performance of the solution are constantly being optimised. This keeps your commerce platform state-of-the-art.
The Benefits of Salesforce B2B Commerce (Formerly CloudCraze)
Give Your Business Customers an Exceptional User Experience
Simple configurational changes to the storefront even without any programming knowledge
Covering special requirements of business customers, such as order split or the representation of complex pricing models
Automation of company-specific processes thanks to Process Builder
Using unified data from the e-commerce and CRM system, your employees get a 360-degree view of each customer's interaction with your brand
Consistent brand experience and personalised content for your customers thanks to the native integration of additional Salesforce solutions
Salesforce B2B Commerce Best Practice – Digitising Customer Relations
In this video, our Salesforce expert René Zimmermann demonstrates the multi-cloud interaction between Salesforce B2B Commerce, Salesforce Sales Cloud, and Salesforce Pardot. The real example of a manufacturer of machine parts shows how online prospective viewers become good customers. It's not the best offer that counts, but the relationship you maintain with a (potential) customer at every stage of the (digital) customer journey.
Salesforce B2C Commerce (Formerly Demandware) Features
Create Personalised Cross-Channel Experiences for Your End Consumers
Integration of various channels such as apps, social media and offline store
Seamless brand experience for your customers with native integration of Salesforce tools for marketing automation and CRM
Shop and CRM data combined on one platform provide your employees with a 360-degree view of the customer
Previewing personalised content makes campaign planning easier for your marketing staff
High user-friendliness for back-end users, thanks to ready-made functions even for employees without programming knowledge
Salesforce Einstein learns based on past user behaviour and delivers customised product recommendations for each customer
Why Your Salesforce Commerce Project Is In The Right Hands With Us
Trusted Partnership: As an official Salesforce Partner, we have strong skills in Salesforce B2C Commerce (formerly Demandware) and Salesforce B2B Commerce (formerly CloudCraze) and are in close contact with the software provider
Concentrated Competence: Our team includes 12 certified Commerce Cloud developers, 11 certified Salesforce Core Product Consultants, and 3 certified CloudCraze developers who will be happy to help you with the implementation of your project.
Years of Knowledge: dotSource has been an official partner since 2013. At that time the solution was still known as Demandware.
Individual Developments: We adapt Salesforce Commerce Cloud to your individual requirements, for example with our Customer Self Service Portal for efficient digital returns processing.
Multi-Cloud Expertise: In addition to implementing your Salesforce Commerce solution, we'll also help you create an integrated platform with Salesforce's CRM and marketing automation systems.


Consultation & Conception: Our experts create system-independent e-commerce strategies tailored to your company and analyse the requirements of the right e-commerce system.
Realisation & Shop Development: We'll create your online shop and connect it to other systems, such as your merchandise management system, payment solutions, etc.
Digital Marketing: We're happy to assist you in creating a concept for search engine and conversion rate optimisation, the connection of your marketing automation tool as well as the creation and implementation of tracking concepts.
Design & User Experience: We'll create your contemporary shop design, examine your online shop with regard to target group oriented usability and user experience and give them valuable tips for optimisation.
Support & Service: Your project will be supported by our experienced project managers with extensive expertise in agile software development and comprehensive documentation. We'll also train your employees in using Salesforce.
We'll Create Your Multi-Cloud Solution: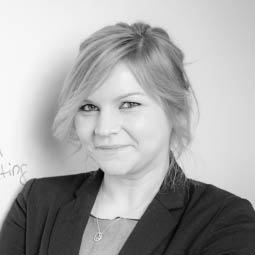 Want to learn more? I'm looking forward to hearing from you!
Jessica Kopyto
Account Executive
Digital Business
Start with Salesforce Commerce Cloud Now!