Adobe Commerce – dotSource Turns E-Commerce into an Experience
Adobe Commerce is the leading system for digital commerce. Since 2008, dotSource has been a partner and has been working with the e-commerce solution for medium-sized companies and large enterprises. It is our goal to support you in developing your idea from the very beginning and to turn it into an experience for your customers. The Adobe Commerce solution goes far beyond the basic process of selling products online: with the help of detailed process analyses, clear system structures and a wide variety of features, our experts will help you to create emotions and memories for your customers while at the same time ensuring seamlessly integrated system architectures.
As an official Adobe Commerce partner, we support you in strategic concept creation, the implementation of Adobe solutions and their seamless integration into your existing system landscape. The success of our joint project lays the foundation for your future digitalisation strategy, which we are happy to drive forward together as part of a long-term partnership. Of course, we also support you in migrating from Magento 1 to Adobe Commerce or Magento Open Source.

Advantages of Adobe Commerce at a Glance
Transparent and easily expandable processes & data flows
Flexible Hosting: On-premise or cloud solution directly from Adobe
Feature solutions specifically for B2C and B2B
Global Solutions: Adobe Commerce is a multi-client, multi-currency and multilingual software
Measurable success through reports
Commerce as Part of the Adobe Platform: Marketing automation software, analytics tool or CMS – by seamlessly integrating these solutions into your Adobe platform, the potential of your company can be fully exploited
Do You Want to Quickly Set Up a Future-Proof B2C or B2B Online Shop?
Get to know our Adobe Commerce entry solutions!
Always Focusing on Your Goals – Successful with dotSource and Adobe Commerce
We understand that e-commerce is much more than just the digitalisation of processes. In times when it is becoming increasingly easy for market participants to offer their products and services online, it takes more to stand out from the crowd. To achieve this, the online shop must serve the needs of your customers as well as your own.
Adobe Commerce is the perfect solution and our experienced experts in development, project management and design are just the right partner! Together we create experiences.
Acquiring customers – this is what we can do to attract customers to your website:
Personalisation Options: Whether it is attractive banners, individual product selection or marketing campaigns – customers are addressed directly and their needs are taken into account to attract their attention.
Topics and Brand Content: Adobe Commerce Page Builder enables you to create engaging and flexible CMS pages in no time – without any programming knowledge and always with a focus on content & commerce.
Languages and Currencies: To make your customers feel at home, we create websites in different languages and currencies together. Adobe Commerce as a multi-client, multi-currency and multilingual software offers the perfect basis for this.
User-Generated Content: Comment and rating features provide trusted content from customers for customers – directly from the Adobe Commerce standard.
Marketing: Nearly every campaign and voucher option can be flexibly mapped and contributes to customer acquisition.
B2C Experiences for B2B Customers: B2B customers today expect the same user experiences they are used to in everyday life. Adobe Commerce enables you to map your individual sales processes online and even manage B2C and B2B customers in one system.
Performance: Quick load times through optimised caching and modified images – with Adobe Commerce and our expert knowledge, even mobile-optimised pages are no longer an obstacle. Our independent performance measurements ensure that the focus remains on speed, even during further development.
Guiding customers individually – every customer has different demands on his perfect shopping experience:
Clear and Structured Processes: A clear user guidance structure ensures that customers can find exactly what they are looking for.
Browsing and Searching: AI-assisted search processes and personalised product information enable your customers to quickly find what they are looking for. Adobe Sensei helps your shop to get to know your customers even better.
Informing and Comparing: Adobe Commerce's product comparison feature as well as optimised product detail and overview pages enable you to provide efficient information about your products and display relevant information so that it can be compared.
Receiving Recommendations Without Digressing: AI-assisted product recommendations as well as maintainable cross-sell and upsell bundles give your users the feeling of receiving individual advice. Do not only show your customers what others bought, but also exactly what they need.
Retaining customers – you have to invest less time in getting your customers back if they come back themselves instead:
Creating Positive Emotions When Shopping: Leading every customer to success individually and efficiently – that is our joint mission and Adobe Commerce is the right basis for achieving it.
Supporting Customers after Making a Purchase: Customer experience does not end with the purchase. With Adobe Commerce, you can support your customers even after the purchase, e.g. through order updates, shipment tracking, return processes or contact options. We at dotSource seamlessly integrate your shop into existing processes or develop new ones together with you.
Encouraging Customers to Give Their Opinion: Satisfied customers talk about you and your products. Ratings, comments, social sharing and related reward systems help you to actively promote customer loyalty and tap into new customer bases.
PWA: A progressive web app provides an important alternative to a native app. Without high costs for double development and constant maintenance, the PWA provides an easy way to smoothly bring existing content to your customers' mobile devices.
Supporting Everyday B2B Processes: B2B customers want to be part of your partner structure. With Adobe Commerce, your customers can use simple reordering options or even map their own purchasing structure, including rights and role management!
Take Advantage of Adobe Commerce and Our Expertise
Interfaces & Processes: With its standardised interfaces, the Adobe Commerce system offers the perfect basis for integrating almost any system or process. We are happy to develop customised solutions for you to achieve a particularly high degree of automation.
Extendability & Plug-Ins: If Adobe Commerce does not offer your desired solution as a standard version, you have a whole marketplace of extensions and our expert services at your disposal – updatable and well-documented, of course.
Security & Durability: To ensure that you and your customers are optimally protected, Adobe Commerce offers a wide range of security features – from encrypted connections and two-factor authentication to GDPR compliance. Regular software updates by the manufacturer and us guarantee a long life of your software solution.
One for All: Adobe Commerce as a multi-client platform makes it possible for you to manage almost any number of shops – regardless of whether it is B2C or B2B and which language is used. Everything is managed via a clearly arranged administration area with a comprehensive rights and role concept.
Figures, Facts & Decisions: An exportable reporting system enables you to measure the success of your own shop. With Adobe Sensei, you can get even more detailed insights and thus quickly make sensible, data-driven decisions. Our data scientists support you in making data-driven decisions for your company.
Keeping an Eye on All Costs: Adobe Commerce Cloud offers you an Adobe system including licence and hosting directly from the manufacturer. If requested, we also host your Adobe platform and customise it according to your needs.
Related Opportunities: What if your shop system works hand in hand with your marketing solution and your analytics tool? Exactly: you will benefit from perfect personalisation, data-driven decisions and effective marketing measures. As a full-service partner, we support you not only in implementing the Adobe e-commerce system, but also in integrating all other Adobe Experience Cloud products.
A Selection of Our Clients That Are Already Successful with Adobe Commerce
We Implement Your Individual Adobe Solution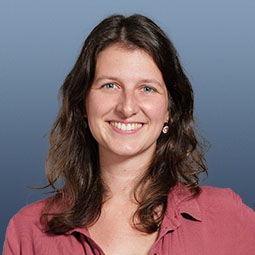 Want to learn more? I'm looking forward to hearing from you!
Jule Flachenecker
Partner Manager